Lake Wales Boy Needs Bone Marrow Transplant For AML Leukemia
by James Coulter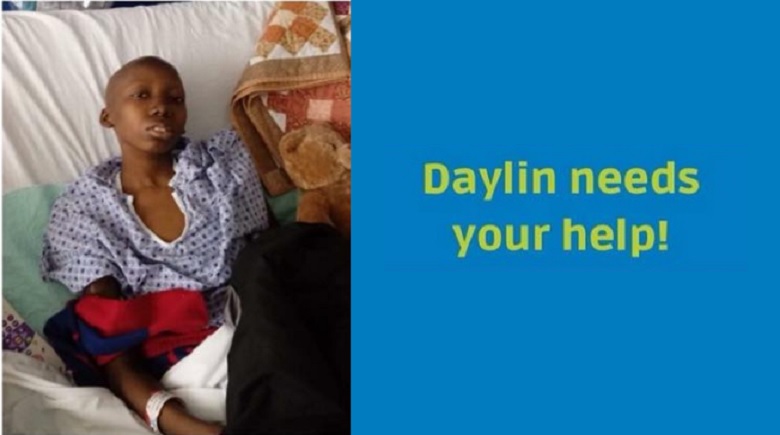 Daylin Jordan, 12, may be small for his age, but in spite of his small stature, he has been able to accomplish big things.
This former Spook Hill Elementary School student loves to play different sports. He loves basketball, he loves track, but most of all, he loves football.
He has played for the Lakeland Steelers, proving himself to be a good quarterback and runner. In fact, he's been named "the fastest boy" in track at his old school.
No matter what sport he has played, he has overcome any big challenge. Now he's facing the biggest challenge of his life by fighting cancer.
Daylin has been diagnosed with acute myeloid leukemia (AML), a severe form of leukemia where rapidly developing myeloid cells overtake normal white and red blood cell production within bone marrow.
He had already received three rounds of chemotherapy, and had recently started his fourth on Thursday.
Once his current round of chemotherapy has sent his remaining leukemia cells into remission, Daylin will be set to receive a bone marrow transplant.
Currently, his parents and medical providers are searching for a donor with either cord blood or a perfect genetic bone marrow match.
Until then, his mother, Candice Jordan, is scheduled to be his donor as of now, even though she is not an exact match.
"I'm not a perfect match, but I'm the closest he has," she said. "If they can find a perfect match, they will use that perfect match; but until then, I will be his donor."
Originally a fifth grader at Spook Hill Elementary School, Daylin will be transferring to McLaughlin Middle School where he will attend sixth grade.
Early signs of his affliction were revealed in January when he experienced mild sickness that forced him to regularly vomit.
His illness worsened to the point where his mother had to be called from work to take him out of school.
She took him to the emergency room several times, but the doctors there assured her that he was probably suffering from a stomach virus, she said.
"I have three other boys who never got sick, so I figured something didn't fit right," she said.
The next time she was called to the school, she took him once again to the emergency room and requested to see the record of his visits. She was shocked to learn how many times he had been admitted, she said.
She then made an appointment for his pediatrician, who then made an appointment for him at a gastroenterologist in Lakeland.
Initially, he was going to be tested for allergic reactions; but when the doctors initially checked him over, they found that it was something worse: cancer.
Daylin was recommended to visit St. Joseph's Hospital in Tampa to undergo testing. The doctors said it would only be a few days. It turned out to be a month, Candice said.
He was diagnosed with AML in May and treated with chemotherapy over the summer.
It did not help that Candice's mother had been diagnosed with stage four lung cancer only a year after receiving a double mastectomy for stage four breast cancer.
Driving back and forth between Tampa and Lake Wales to attend to her sick son and mother put Candice through a lot of stress.
"So there is a lot going on right now," she said.
Hopefully, when Daylin has received his last round of chemo and his bone marrow transplant, he hopes to return to school to learn and plays sports like he used to.
Until then, this small boy will be facing the biggest challenge of his life; but if past challenges have proven anything, it's that a small boy like himself can take on challenges bigger than himself.
"He is already a small child, body size small, he is going through a lot," Candice said. "According to the doctor, these will be the worst chemotherapies he can ever have, these are the worst of the worst. So he is going through a whole lot."
If you are between the ages of 18 and 44, and are willing to be tested to check if you are a match for Daylin or any other cancer patient, register yourself to receive a swab kit by texting Cure24 to 61474.