Lakeland Professor Publishes Book On How To Reach "The Winning Edge"
by James Coulter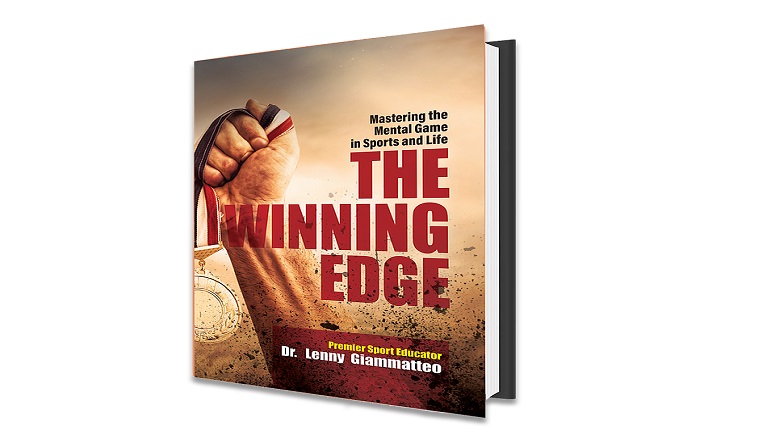 A new school year has begun. With it comes new challenges, be it a new class, an upcoming test, or even a big game.
Whether you're an athlete, a student, or even none of the above, you're sure to find the motivation to tackle your own challenge and reach "The Winning Edge" using advice from the book with the same name.
Dr. Lenny Giammatteo, Professor of Human Performance and Sport Studies at Southeastern University, has spent 32-plus years inspiring his students and athletes towards achieving success both on and off the athletic field.
Now he has complied all of his lessons and words of wisdom into a single self-published book, "The Winning Edge", to offer his readers the motivation they need to achieve success in their own lives—to strive for the winning edge, so to speak.
Each chapter starts with a motivational quote and story about an athlete and how they were able to overcome their own challenges through the power of positive thinking, thus encouraging readers to maintain a similar mindset.
Chapter-by-chapter, readers will learn to learn their own strengths and weaknesses, identify their own personality type, and use what they had learned to set their own goals, form their own strategies, and achieve their own personal success.
The biggest obstacle towards achieving success always remains the psychological rather than the physical. So the book offers motivation to help readers set their end game both mentally and psychologically.
While the book is written from an athletic perspective, the advice provided within its pages are just as relevant to non-athletes, and can help anyone achieve whatever goal they aspire for, be it athletic, academic, or career-wise.
"Everybody needs to understand motivation. It is not just the athlete, it's the average person trying to make themselves take them to the next level of their sport or career or whatever they want to make of themselves in life," Dr. Giammatteo said.
Dr. Giammatteo's own journey towards his winning edge began 16 years ago when he decided to take private lessons from a PGA professional to improve his golf game.
During his lessons, he managed to hit the golf ball each and every time to a tee. As his instructor watched him, he discovered that the problem wasn't his physical game, but rather his mental game.
"He said that I didn't need a lesson, I need a book in sports psychology," Dr. Giammatteo said.
So taking his instructor's advice, he purchased his first sports psychology book and studied it. So enamored he became with the book and its words of wisdom that it inspired him to take up a career in sports psychology.
He had already achieved his doctorate in human development at the time, so he decided to pursue a certification in sports psychology.
During his studies, he became a member of the Association of Applied Sports Psychology, worked through 400 hours of internship work with various athletes under another certified consultant supervisor, and finally received his certification, allowing him to officially work with other athletes.
Since then, he received a position as a professor at Southeastern University, where he became a mental game coach and started a degree program in sports psychology.
His experience as an educator for the past 37 years and within the school system for the past 20 years as a consultant and coach inspired him to write his own book.
The lessons that he taught within his classes would help form the outline of his book, as everything he has taught within the program he has written out in his book, almost like a textbook.
"This book arrived from the course that I covered over the last five years, and I have been working on it for the last three years," he said. "It felt like something to put in their hands besides me talking to them. Now they have an actual book that I put together."
Originally, he wanted his book to be called "Champion Thinking", after his own website; however, while writing his book, he kept on referring to how his advice will allow readers to reach "the winning edge."
His writing coach, who helped him prepare the book, mentioned how he kept writing that phrase, and felt that it would make a better title.
"This book is for athletes and people [looking for] the winning edge and support in life," he said. "Just by completing an outline, I felt that was a great title to have for the book."
"The Winning Edge" is available for purchase as either a physical copy or e-book on Amazon, Barnes and Noble, Google Books, and on Dr. Giammatteo's website: http://www.championthinking.com