Mad Artist Airbrush Makes Custom Clothing Just For You
by James Coulter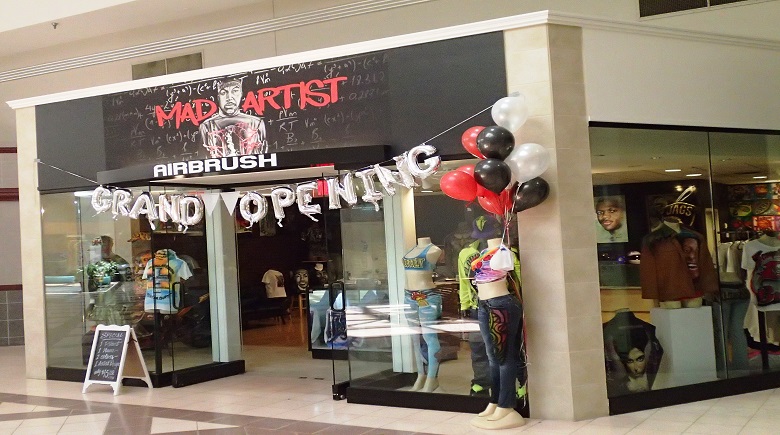 Anybody can walk into any clothing shop and buy any shirt or piece of clothing that anyone else can buy.
So if you're looking for something to wear that's truly unique and which makes you stand out apart from the crowd, then come and visit Mad Artist Airbrush at Lakeland Square Mall.
This new clothing shop offers a variety of merchandise including t-shirts, hats, helmets, hoodies, and car tags, all with custom airbrush designs created freestyle by local artist and owner, the Mad Artist.
Unlike other airbrush stores that use the exact same designs from the exact same stencils, The Mad Artist makes all his designs freestyle upon customer request.
Any design that the customer wants on their merchandise can be custom made exactly for them, ensuring that they walk away with a purchase that's truly unique for them.
"Ever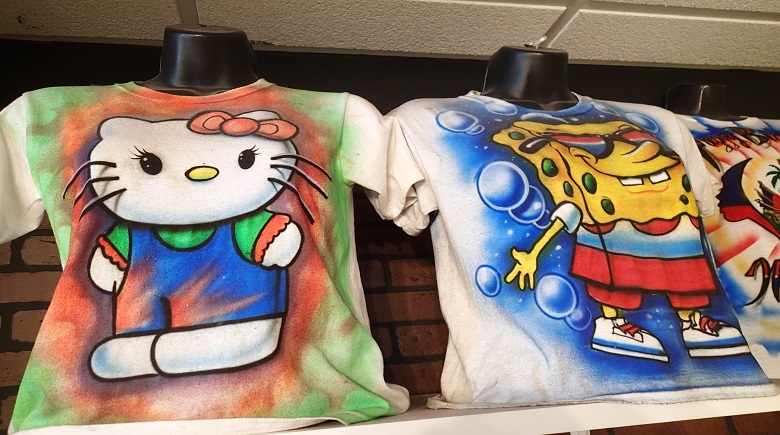 ything that I do is by hand, and I can paint anything that you can desire," The Mad Artist said. "I want to impress them and let them know that they will not see another individual wearing anything that you can buy from here."
The Mad Artist brings with him a lifelong experience as an artist, especially for an airbrush artist. Ever since he was young, he created his own personalized toys through his own artwork.
A Jacksonville native, he attended the local high school where he took a commercial art course through a vocational skill center.
During his last three years in high school, he participated within the Vocational Industrial Club of America, through which he competed with other art students across the state and even country through several art competitions.
Of these competitions, he placed first in the regional art competition in Jacksonville, first in the state competition in Clearwater, and finally third in the nation in Arizona, allowing him to represent Florida in commercial art.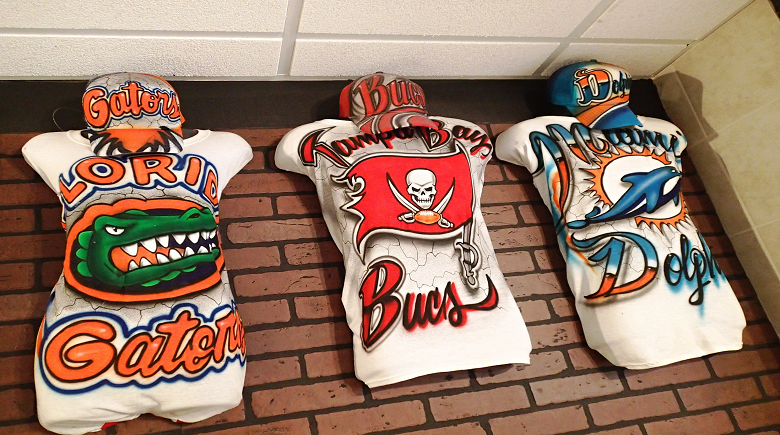 Upon graduating high school, he received his associate's degree in commercial art at Tampa Technical Institute. After that, he began his career humbly enough by renting a booth at the local flea market and selling custom t-shirts.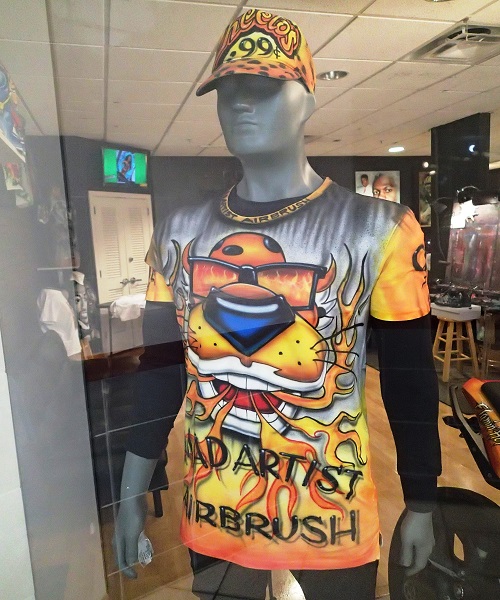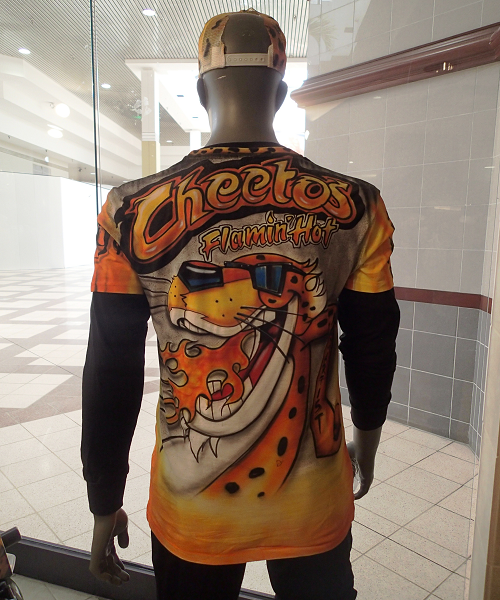 Originally, he created his own freestyle designs using makers, but eventually learned how to use an airbrush, which has since become his trademark art style.
From there, he would tour several state fairs where he sold his custom designs, and even managed to paint designs for many of the fair rides and even for the Mighty Bluegrass Show in Tampa.
His career within the fair lasted ten years. As he became older, it became more difficult for him to travel, so he decided to settle down in Lakeland and open his own shop at the mall.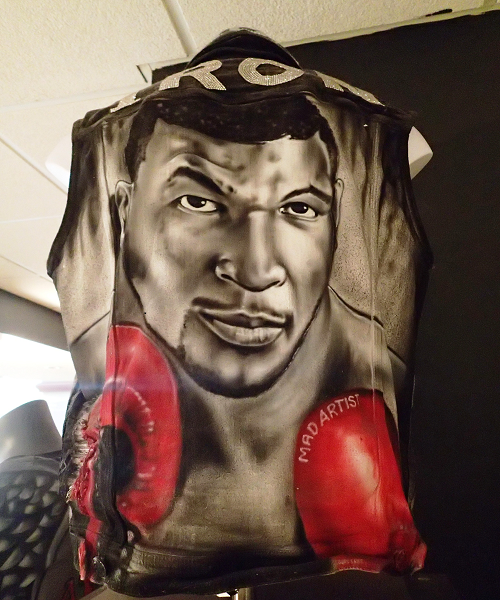 His new store offers a variety of merchandise from t-shirts and hats to sun visors and car tags. He can even create designs for vehicles such as motorcycles, though he can only advertise them at the mall.
His business has since purchased special equipment that will allow for airbrush designs to be created mechanically; but until he and his team learn how to properly use it, The Mad Artist plans on creating his designs the old-fashioned way.
For him, airbrush art allows him much more creative freedom than any other art form, as he can create any design freestyle.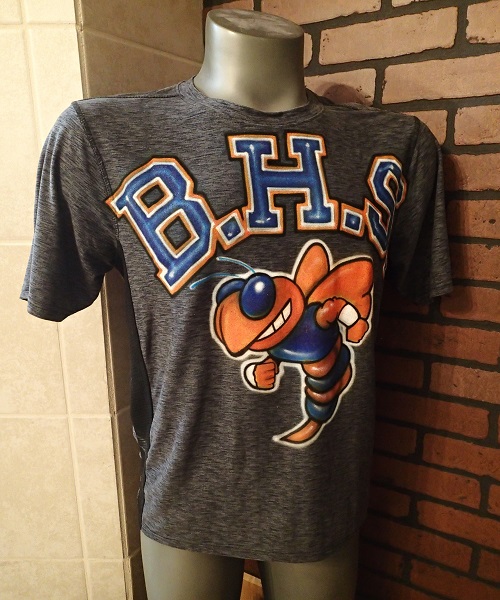 "I have always been the type of person who loves art," he said. "The artform that I chose is so versatile that I can express my feelings on fabrics and walls and canvases and automobiles. So I have found that way of expressing my art, which is very satisfying to me, and I enjoy doing it for that medium as well."
Anyone who is looking for something to wear that is unique to them and them only should consider visiting the new store and requesting their own items.
"The people who come inside this store, they love the free hand art ability of myself," The Mad Artist said. "They feel they can get something here that they can't get anywhere else. That is what it is all about."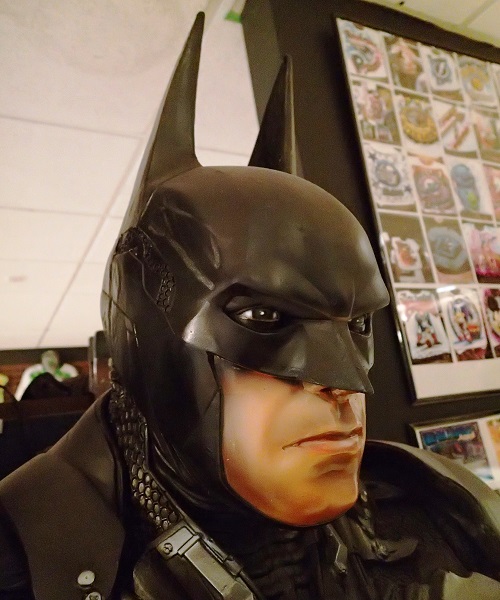 Mad Artist Airbrush is located between Gordon's Jewelers and Dillard's within Lakeland Square Mall, which is located at 3800 US Highway 98 North in Lakeland.
For more information, call 813-312-7384, or visit their Instagram page at: https://www.instagram.com/madartistairbrush/