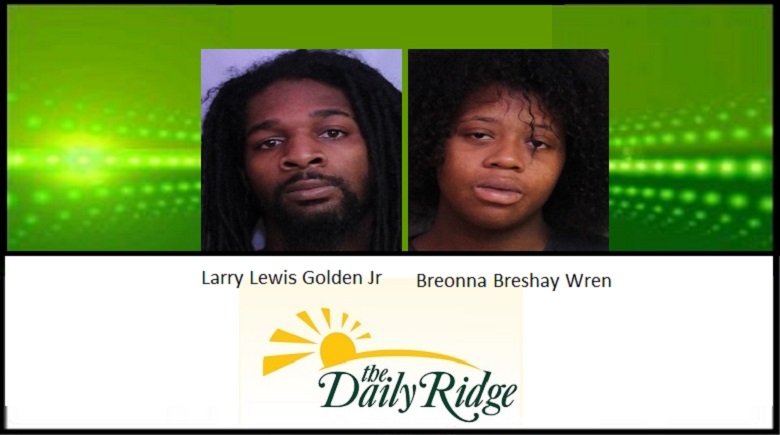 LAKELAND, FL (June 19, 2018) – On June 15, 2018, Larry Lewis Golden Jr. and Breonna B. Wren were charged with First Degree Murder and Aggravated Manslaughter of a Child for the death of Honesty Curry.
On June 12th, 2018 at approximately 10:56 p.m., officers from the Lakeland Police Department responded to 929 N. Gilmore Avenue #10, in reference to an unresponsive child. The child, a six-year-old girl, was located in the living room of the apartment, lying on her back with no detectable pulse and did not appear to be breathing. The officer immediately began CPR and continued with life-saving efforts until Lakeland Fire Rescue, and Polk County Fire Rescue arrived on scene and took over emergency care. The child, Honesty Curry, was transported to Lakeland Regional Health and then, due to the severity of her injuries, flown to Tampa General Hospital.
Hospital staff determined that Curry had severe skull damage, markings resembling adult bite marks on her thigh, lacerations on her throat and bruising all over her body. Curry was not expected to survive her injuries.
The two adults in the apartment were identified as Larry Lewis Golden Jr., 26 years old and biological father of Curry, and his girlfriend Breonna B. Wren, 21 years old. Also in the apartment were three (3) additional children, ages one, three and four years old.
When interviewed, Golden Jr. and Wren initially stated Curry's injuries were the result of a simple fall that neither adult saw. Wren later referred to two falls involving the little girl. The first fall was said to have taken place in the hallway when she believed the child hit her head on a protruding closet door. Wren advised the second fall took place about an hour later, with Curry falling and hitting her forehead against the wall, after being made to stand in the corner for punishment.
Later that evening, Golden stated he went into the bedroom to wake Curry, but she was unresponsive, and he called for emergency medical assistance. Detectives were called to the scene to investigate the incident, and the Department of Children and Families (DCF) was notified.
When confronted with injuries discovered by medical professionals, Wren admitted striking the child twice on the buttocks with a leather belt while she was standing in the corner for punishment. She also believed that Golden Jr. struck the child with an unknown object while in the kitchen. The force of the strike sent the child to the floor. Larry Lewis Golden Jr. and Breonna B. Wren were taken into custody and charged with Aggravated Child Abuse. DCF took the two youngest children into their custody, and the other child was picked up by her mother.
Honesty Curry was later pronounced deceased on June 14, 2018, at 11:47 a.m.
Charges of First Degree Murder and Aggravated Manslaughter of a Child were filed against Golden Jr. and Wren. Both remain in the Polk County Jail.
This investigation is ongoing, and detectives are continuing to work closely with the State Attorney's Office.