How to Prepare for This Year's Hurricane Season
By Allison Williams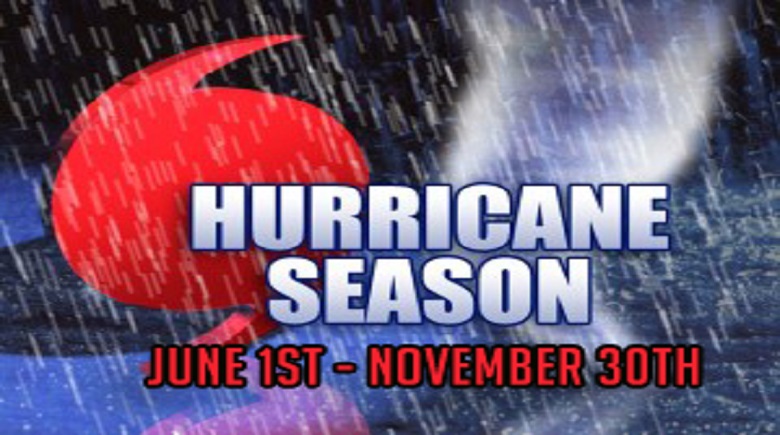 With hurricane season just beginning, businesses and residents of Florida are finding ways to become better prepared for this year's hurricane season.
Hurricane season officially started June 1, 2018 and will continue over the next several months. August and September are the peak hurricane months.
It is important to know the differences between depressions, storms and hurricanes:
The lower level storm is referred to as a tropical depression. In this type of storm, winds do not reach above 38 miles per hour. Once the winds are between 39-73 mph, the storm level upgrades to a tropical storm. Hurricanes produce the strongest winds of 74 mph and above.
Disaster Kit
One of the easiest ways to prepare for hurricane season is by putting together a disaster kit. This kit should include essential supplies that will help you and your family through the storm and help prepare you for the aftermath of the storm. These kits will come in handy if you choose to stay at your home during a hurricane OR if you hit the road, especially if there is a mandatory evacuation. It is smart to have these supplies with you wherever you go.
Water
Food that is nonperishable
First-aid kit
Flashlights
Sanitary items
Battery operated radio to keep track of the storm after losing power
Important documents (passport, ID, birth certificate, medical information, proof of address, etc.)

Be sure to keep these in a waterproof bag or container.

Matches/lighter
Cooler/ice packs
Manual can opener
Additional batteries
Any medication for people you are with
Cash

Many people don't think of this, but if you do not have power, ATMs, banks, etc. will likely be unhelpful.
Joe Garrison, owner of Garrison Land Management Inc., Garrison Property Services, LLC and an Assistant Chief of the Dundee Volunteer Fire Department shared his personal tips on hurricane prep.
"Prepare early, and staying prepared throughout the year is always good," Garrison said. "Don't wait until the last minute."
Sandbags are also beneficial to have ready before a hurricane hits.
"It's a lot of work filling sandbags and not really knowing if you need them or not, but certainly if you have sandbags standing by in your garage ready to go you will avoid the rush," Garrison said. "This year at my office I bought a bunch of sand and advertised it on Facebook because I saw on Facebook that everyone was asking for sand, so I just opened up a place at my office where people could get sand right there on 27."
Other important things to help you prepare include having a full tank of gas before a hurricane is scheduled to hit and keep spare clothes in that vehicle, especially rain gear. Also, charge any devices such as phones, iPad's and tablets before losing power.
It is also smart to let friends and family know where you are going to be staying for the duration of the storm. This is important in case you lose contact with your loved ones.
Where to Go as a Hurricane Approaches
Sometimes hurricanes are so dangerous, they require a mandatory evacuation of an area. If this is the case, always follow directions and board up your home, securing it as best as possible, pack your hurricane kit and hit the road.
If you choose to stay home and weather a hurricane, no matter what category it may be, you should always take precaution. Designate a room in your house as a bunker room. This room should be as far away from windows in the house as possible.
Other Ways to Protect Your Home
Secure all outdoor furniture. Furniture could be dangerous to your home and surroundings if the winds become strong enough. Bring all chairs, tables, umbrellas and trash bins indoors. For larger items or items that cannot be secured indoors such as propane tanks, be sure to find a way to anchor these objects down outside. Turn off propane tanks before the storm if possible.
If you own a property with a lot of surrounding trees, trimming and/or removing threatening trees could potentially prevent tree damage to your home.
Generators
An extremely important thing to note: Generators should ONLY be used outdoors, as they emit carbon monoxide, which can be poisonous if it filters through your home. Generators should be kept in a dry location, away from windows. Garrison suggests keeping generators at least 25-30 feet away from your home if at all possible.
Also, keeping them secure and dry will help reduce the risk of electrocution.
Always wait for the generator to cool before adding fuel. This will reduce the risk of fire if fuel gets on the engine.
Carbon monoxide can be very dangerous. It cannot be spotted or smelled, so it is important to keep the risk of carbon monoxide buildup in your home to a minimum. This is why a generator should always be used outdoors, never in an enclosed area.
If you think you have come in contact with carbon monoxide while using a generator and start feeling sick or dizzy, find fresh air immediately.
One way to detect carbon monoxide is by installing CO alarms in your home. This will help detect leaks early on. See the American Red Cross website for more generator information and safety:
http://www.redcross.org/get-help/how-to-prepare-for-emergencies/types-of-emergencies/power-outage/safe-generator-use#What-size-generator-will-I-need-
Aftermath
To be better prepared for the aftermath of a hurricane and losing power, consider the following:
Keep your fridge and freezer on the coldest setting and keep opening the doors to a minimum. This will help keep any perishables cold for longer.

If you suspect anything from the fridge or freezer is spoiled, do not risk it. Throw it out.

Do NOT cross flooded roadways or bridges.
Stay clear of fallen or loose power lines.
Avoid tap water in case of contamination.
The local fire departments do their part to help after the storm. They go out and assess areas, searching for anyone they may be of assistance to along the way.
"After the storm has passed or even through the eye of the storm, there are going to be power lines down and it is going to be dangerous out there, so you don't want people walking around the neighborhood," Garrison said. "Buildings and structures are not stable."
The best thing to do is leave it to the fire department, and do a quick, personal assessment of your home and stay safe.
*Information provided by the American Red Cross, State of Florida website and Ready.gov.