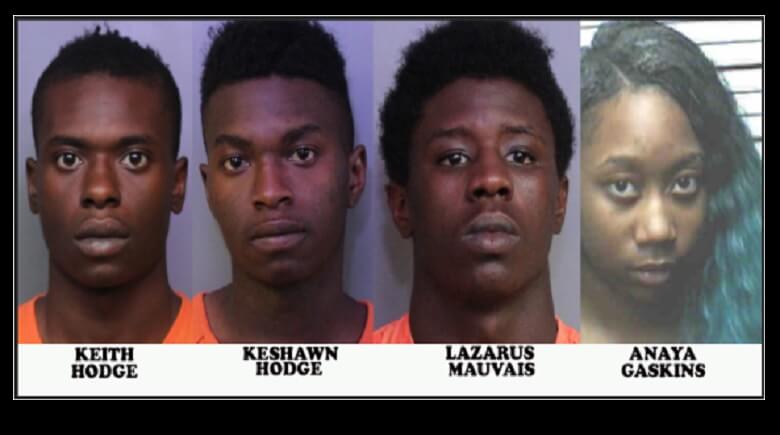 PCSO Release:
On Tuesday, May 8, 2018, at about 2:49 a.m., deputies from the Polk County Sheriff's Office responded to a call in the Davenport area regarding suspicious people in a neighborhood, which ultimately resulted in the arrest of three adult men and a female juvenile for numerous car burglaries.
Arrested were 18-year-old Lazarus Mauvais, 19-year-old Keshawn Hodge, his brother 20-year-old Keith Hodge, all of Apopka, and 16-year-old Anaya Gaskins of Orlando.
On Tuesday morning, a resident of the Loma Del Sol neighborhood saw the group approaching several parked vehicles, before leaving in a dark colored pickup truck.
Deputies immediately responded, and attempted to make contact with the occupants of a truck in the neighborhood that matched the description. The four people within the truck jumped out and fled in different directions. It was discovered that the truck had been reported as stolen out of Orlando.
Two were caught trying to conceal themselves in a retention pond. The other two were stopped as they were walking through the neighborhood. A fifth unknown suspect is believed to have been involved.
During the investigation, detectives were able to connect the four suspects to more than a dozen car burglaries in the area, which also includes the Loma Vista, West Haven, and Four Corners neighborhoods.
"All four of these suspects have been in trouble before, and yet here they are again, out committing even more crimes. Our detectives are working with other law enforcement agencies in the Orlando area to see if they are connected with any recent burglaries there as well. We commend the residents in the area who saw something and said something – without that, we would not have caught these suspects so quickly" – Grady Judd, Sheriff
Each one of the suspects is being charged with the following: Burglary Conveyance (15 counts), Attempted Burglary Conveyance (2 counts), Petit Theft (4 counts), Grand Theft (3 counts), Conspiracy to Commit Burglary Conveyance (17 counts), Conspiracy to Commit Grand Theft (3 counts), and one count each Grand Theft motor vehicle, Conspiracy to Commit Grand Theft motor vehicle, Loitering and prowling.
Mauvais and the Hodge brothers were additionally charged with Contributing to the Delinquency of a Minor (Gaskins).
Anaya Gaskins was listed as a missing juvenile at the time of her arrest, and was already on juvenile probation for battery on a law enforcement officer and robbery by sudden snatching. She was also charged with violating her probation. Her criminal history consists of four felonies (robbery, battery on a leo/three counts) and five misdemeanors (petit theft, resisting/two counts, and disorderly conduct/two counts).
Keith Hodge's criminal history includes four felonies (Grand Theft Motor Vehicle, Armed Robbery, Possession of Cocaine with Intent to Sell, Resisting) and two misdemeanors (Possession of Paraphernalia/two counts).
Keshawn Hodge is currently on juvenile probation for Dealing in Stolen Property (felony), his only prior offense.
Lazarus Mauvais has a prior Burglary of Conveyance charge (felony).
Gaskins was arrested and transported to the Juvenile Assessment Center (JAC) in Bartow. The other three were arrested and transported to the Polk County Jail in Bartow.