Main Street Frostproof Offers Presentation For A Better City
by James Coulter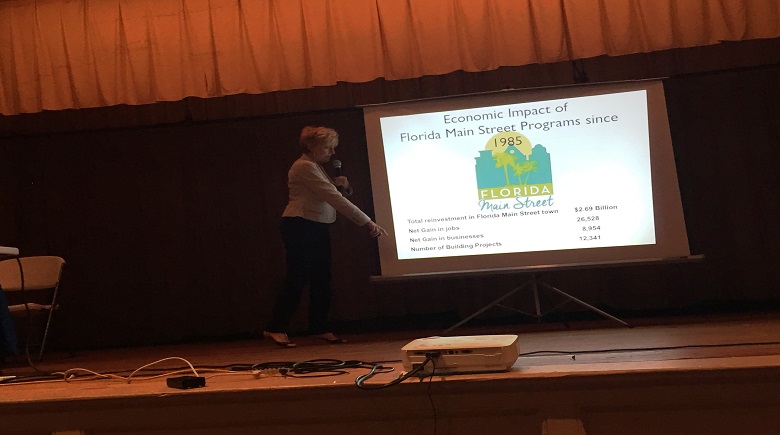 Imagine a small rural town nestled between two scenic lakes and hidden amidst a sea of orange groves.
Imagine a close-knit community where residents and guests alike can reside either in cozy "tiny houses "within a "pocket neighborhood" or in loft apartments overlooking a bustling downtown area with shops, cafes, and galleries.
Imagine a downtown area where people can safely stroll along sidewalks of colorful pavement and foliage, where they can choose to sit back and relax with a cold beer, peruse artwork by local artists, visit historic landmarks such as the local theater, or simply enjoy the overall vibrant atmosphere.
The good news is that the location for such a community already exists within Frostproof, a small town located less than ten minutes south of Lake Wales.
The better news is that, while this small town isn't quite like the previously described community, it has the potential of becoming that way if the residents truly believe they can help make it that way.
This vision of what Frostproof could potentially become through revitalization efforts was presented to residents on Thursday evening through a presentation by Main Street Frostproof.
The presentation was created by a resource team of four representatives from across the state and country using data they had collected during their visit over the past three days, which included town hall meetings, community surveys, and walking tours.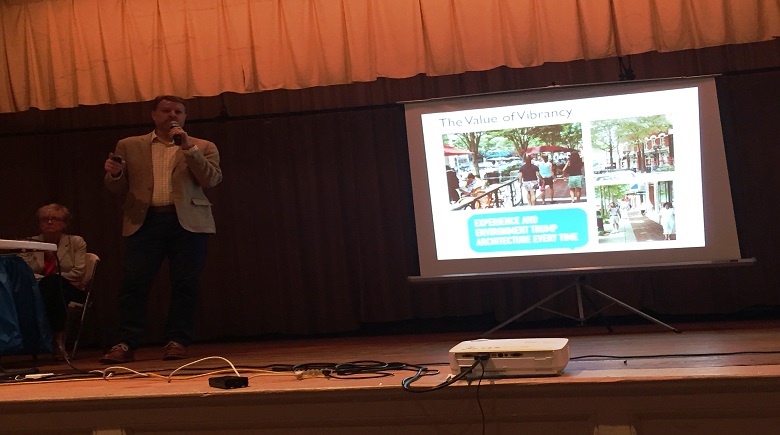 Using the data they collected during that time, they created a presentation of what the city could look like with their proposed changes and recommendations.
One way these changes could be implemented is through façade component grants provided to local businesses in small increments over several years, allowing them to revitalize their buildings' exteriors with signage, awning, and lighting.
Randy Wilson, Community Design Solutions Architect in South Carolina, and one of the resource team members, used the old Roscoe's Gas Station as an example, showing how the old building could be transformed into a restaurant through such small changes.
Wilson also proposed refurbishing the town's epicenter at the intersection of Wall Street and Scenic Highway, with proposals to widen the sidewalks and curbs, paint pavements, and provide more street foliage as to better accommodate pedestrians.
His proposal also included showcasing local artwork within vacant storefronts, converting the upper floors of downtown buildings into loft apartments, and converting one of the local car dealers into a combination brewery pub.
All these changes would not only revitalize the downtown area, but also help preserve the overall uniqueness of the city.
"There is not a single place on Earth like Frostproof," he said. "So it is important to make it look like the best Frostproof it can be and not try to be like any other town."
Main Street America is a nationwide organization which seeks to revitalize local communities across America through a community-driven approach towards downtown revitalization and economic development.
The resource team visit was one of the initial services provided to newly-formed Main Street communities, of which Frostproof was one of three cities within Florida designated as such last year by Florida's Secretary of State.
"It is all about you, the community, to make it what you want it to be," explained Ronni Wood, Coordinator of the Florida Main Street Program. "We were not here for three days to tell you what we want it to be, but what you all want it to be."
Since 1980, more than 2,000 programs utilizing this Main Street approach have been implemented within communities nationwide, resulting in $74.73 billion reinvested back into those communities, she explained.
Such a community-driven approach involved collecting community feedback, including through an online survey which received 108 responses from local residents, said Kathy LePlante, Director of Coordinating Programs for National Main Street.
When asked what words best described their city's downtown area, survey recipients responded with a mixture of positive terms such as "quaint" and "historic" along with less than positive terms such as "empty"; and when asked about the biggest issues within their downtown area, the three top issues cited were store variety, vacancies, and entertainment, she further elucidated.
Tackling these issues would require a more proactive approach from residents and businesses owners through "economic vitality", an approach in which residents cause change to happen downtown rather than waiting for things to happen, LePlante explained.
"Nobody is coming from outside to save you," she said. "You need to figure out how to do it with the resources in the community."
Jessica Newman, Executive Director for Main Street Wachula, further explained this proactive approach by sharing ways that residents can promote their community and improve its overall image.
Narrowing in on Frostproof's nickname as "The Friendly City", Newman explained that promoting the city's namesake could be as simple as sharing photos of downtown businesses and people through social media, distributing smiley face buttons at local businesses, and showcasing local artwork.
"Promotion is more than party planning and events," she said. "Promotion helps make your community a destination…[and] it is a way to bring the community together and reinvigorate community pride."
Kelly Banks, Executive Director for Frostproof Main Street, was impressed by the team's efforts to understand the city's needs and propose ideas to help improve the downtown area, for which she has nothing but high expectations.
"I really want to bring vitality and color down to Frostproof to show there is life, that we have a lot of good businesses here, and to draw in new [businesses]," she said.