West Virginia Man Arrested on Polk Warrant for Grand Theft of Corvette from Kelley Buick GMC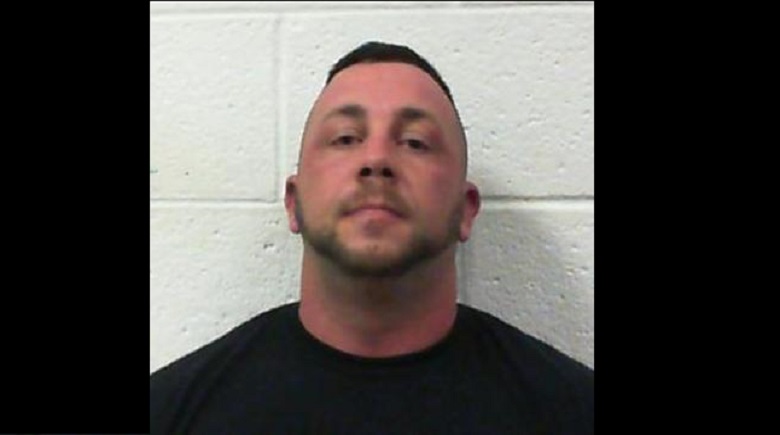 On March 13, 2018, Mercer County (WV) deputies arrested 
31-year-old Jake Ernest Boswell, Jr.,
 on a Polk County Warrant for grand theft (F-3), obtaining a vehicle by fraud (F-3), and worthless check (F-3). Boswell fraudulently obtained a $63,000 Corvette from Kelley Buick GMC in Bartow in 2017 and fled out of state.
According to the affidavit, on March 20, 2017, Boswell purchased the black 2015 Corvette from the dealership for $63,703, after writing a $6,000 check for a down payment 
on his business account "J&J Paving and Asphalt, LLC." Boswell agreed to finance the remaining amount, $57,703, through Ally Financial. Boswell showed the dealership his West Virginia driver's license, and the bank from which the check he wrote was from a First Century Bank of Princeton, W.V. account.
After the purchase, Boswell loaded the Corvette onto a trailer and left. On March 28, 2017, Kelley Buick GMC was notified that the check Boswell wrote had a stop payment placed on it by Boswell on March 24th. A Kelley employee called Boswell, who told him that the car had mechanical issues so he stopped payment on the check. When the employee reminded him the car was under warranty and he should bring it in to be serviced, but that they still needed the $6,000 that was owed to them, Boswell became uncooperative, and they were unable to reach him again. 
"
We're not sure what this guy was thinking, except maybe that his new Corvette would be fast enough for him to get away. It doesn't matter where you go once you steal from someone in our county – we will investigate, we will issue a warrant, and we will find you
." –
 Grady Judd, Sheriff
The following is an excerpt from the affidavit:
An investigative subpoena was served to the suspect's bank in West Virginia, which revealed the suspect only had $2094.65 in his account when he wrote the check. It also revealed the day the stop payment was placed on the check, he only had $3128.83 in his account. This amount is far less than the check written to the victim for $6000.00.  


The suspect willingly and intentionally issued a check to a service corporation that is authorized by law to extend credit in the amount of $6000.00 as a down payment for a 2015 Chevrolet Corvette. The suspect then transported a Chevrolet Corvette valued at $63,703.90 back to the state of West Virginia, after issuing the check. The suspect schemed to defraud the victim by issuing a check from an account that did not have sufficient funds available when written, and did not have the funds available. The suspect then intentionally cancelled the check on 03/34/2017, before the check could reach his financial institution for payment.  


Boswell was booked into the West Virginia Regional Jail & Correctional facility in Charleston, W.V., after his arrest, and he will be extradited to Polk County at a later day.