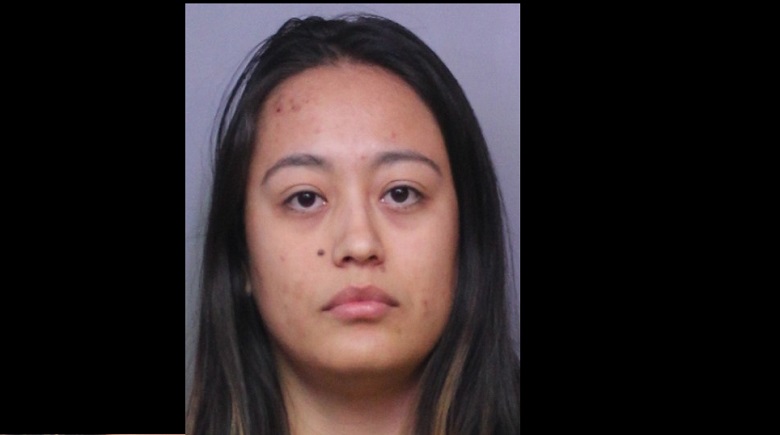 On 
March 14, 2018
, Polk County Sheriff's Office deputies arrested former Deputy Sheriff Silvia Lara for aggravated stalking, burglary with battery, misuse of official position for responding to a false call for service, and misuse of DAVID (FL driver's license database).
26-year-old Silvia Lara was hired as a Deputy Sheriff in November 2015 and was most recently assigned to Southeast District patrol.  She resigned effective immediately upon her arrest – had she not resigned, she would have been terminated. Her most recent salary was $47,220.16.
According to the arrest affidavit, on March 13, 2018, Lara went to her ex-boyfriend Reynaldo Cruz's home in the Wahneta area of Winter Haven unannounced.  He told deputies that he asked her to leave his home several times, at which time he attempted to close the door but Lara grabbed the door preventing him from doing so. Cruz told deputies that at one point she reached through the doorway and grabbed his arm, scratching it and leaving a mark. She was not on duty at the time. He reported the incident to PCSO.
During the investigation, deputies learned that on March 11th, Cruz and his girlfriend were at Winter Haven Hospital for an unrelated incident. Lara was dispatched to WHH after a vehicle crash and saw Cruz and his girlfriend's personal vehicles in the parking lot. Lara began to call and text Cruz multiple times. Cruz stopped answering Lara's calls, at which time Lara called the hospital room's phone and argued with Cruz's girlfriend.
Deputies also learned that in December 2017, Lara responded to Cruz's home while on duty, reporting that someone called 9-1-1. Cruz and his family told her there was no emergency. Lara parked her patrol car at the end of the street and waited. Cruz's girlfriend told detectives that she walked outside and Lara approached her. She said that Lara told her (the victim) that Lara would arrest her for trespassing if she didn't leave.
This afternoon, March 14
th
, Lara was arrested and charged with:
Misuse of official position for responding to a false call for service (F-3)

Aggravated stalking (F-3)

Misuse of DAVID (M-1), for accessing the Department of Highway Safety and Motor Vehicle database to view the victim's driver's license and personal information

Burglary with a battery (F-1), for entering the front porch of Cruz's home, remaining there after being told to leave, and scratching Cruz's arm  




She has been booked into the Polk County Jail, and is being held on no bond until a first appearance hearing tomorrow. Her mugshot is attached. 
Per Florida State Statute 119, Lara's address and phone number, as well as the aggravated stalking victim's address and phone number, are exempt from disclosure.