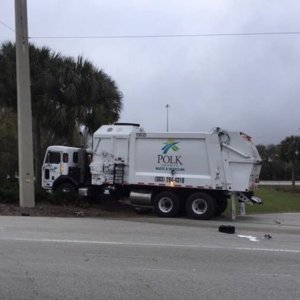 Update:
News Release from Lakeland Police Department:

LAKELAND, FL (February 27, 2018) – On February 27, 2018 at 5:27 a.m., a contracted refuse truck for the Polk County Waste & Recycling Department was being driven northbound on Socrum Loop Rd. The driver of this truck, Alvin T. Lamar, 43 years old, failed to see the victim, Michael Louis Dimezza, 53 years old, who was stopped at the traffic signal on his motorcycle facing northbound at the intersection of Socrum Loop and Lakeland Park Bl.

The refuse truck struck Dimezza from the rear which caused him to be ejected off his motorcycle. PCEMS & LFD arrived on scene and began to provide life-saving measures; however, he was pronounced deceased on the scene.

Members of the Traffic Homicide Unit responded to the scene and took over the investigation and the roadway was shut down for approximately 4 ½ hours. This investigation is still ongoing by members of the Traffic Homicide Unit and no charges have been filed at this time.
Original Release:
Lakeland, Florida – The Lakeland Police are currently on scene of a fatal crash. The crash which took place early Tuesday morning involves a motorcycle and garbage truck near 4500 block of Socrum Loop Rd. The northbound lanes will be blocked for at least 2 hrs. We will update as more information becomes available.