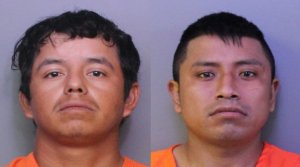 PCSO Deputies Arrest Two Mulberry Men For Attempting to Fraudulently Register A Vehicle
PCSO Release:
On Thursday, February 22, 2018, Polk County Sheriff's Office deputies arrested 25-year-old Atanancio RosasGonzalez and 29-year-old Miguel LazaroPerez both of Mulberry for 1 count fraudulent title application (F-3) and 1 count passing a forged instrument (F-3). RosasGonzalez and LazaroPerez attempted to register a vehicle at the Tax Collector's Office located at 916 North Massachusetts Avenue in Lakeland. Both LazaroPerez and RosasGonzalez told deputies that they are from Mexico and they are in the country illegally.
According to the arrest affidavits, RosasGonzalez and LazaroPerez walked into the Tax Collector's office and attempted to register a black 2000 Ford Expedition. The Tax Collector's Office employee told them the title was incomplete and the owner of the vehicle signed the title in the wrong place. They exited the building, telling the employee the owner of the vehicle was outside.
About 27 minutes later both RosasGonzalez and LazaroPerez came back into the Tax Collector's Office and met with a different employee. The application's co-seller signature line was crossed through and the Seller signature and print name spots were now filled in. The employee brought the application to her supervisor who indicated the new buyer needed to sign an affidavit because the purchase price was in the wrong place, as well as attesting to the purchase price and paying taxes on it.
Deputies approached RosasGonzalez while he was completing the title work with an employee. RosasGonzalez told deputies that the Expedition is his sister's car and that she was at work in Orlando. Furthermore, he told deputies that she was never in the car like they said she was. He admitted that he knew the title needed to be filled out by his sister, but instead LazaroPerez forged her signature on the documents. LazaroPerez does not have the power of attorney for the owner that would allow him to legally complete these actions.
"We welcome legal immigrants who want to be law-abiding citizens. These two chose to not only come into our country illegally, but broke the law and forged official documents. We have notified ICE and they will be prosecuted to the fullest extent of the law." – Grady Judd, Sheriff
During the interview, RosasGonzalez and LazaroPerez admitted that they paid a "coyote" $7,000 in cash to get into the country illegally from Mexico.
RosasGonzalez and LazaroPerez have been arrested and booked into the Polk County Jail.