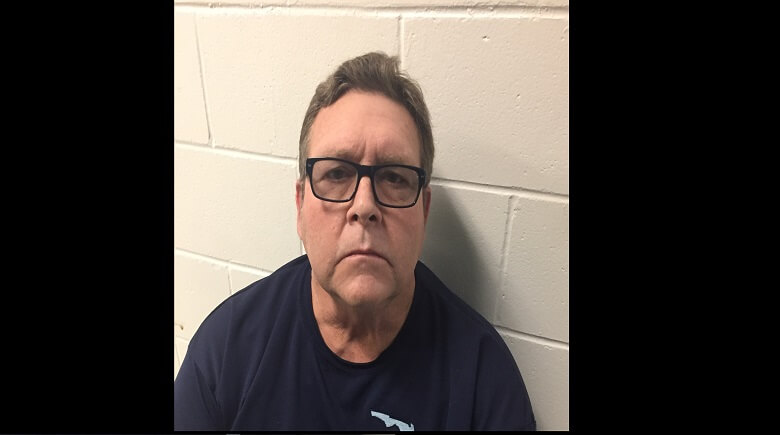 On Wednesday, February 7, 2018, the Polk County Sheriff's Office arrested the owner of Tropic Pools of Central Florida, Inc. for a pattern of criminal conduct which cost customers and subcontractors hundreds of thousands of dollars, and shoddy pools.
John Lee Johnson, who turns 59-years-old later this month, is the owner of the Mulberry-based company, and has been charged with Grand Theft over $100,000 (F-1), Scheme to Defraud over $50,000 (F-1), and Misappropriation of Construction Funds over $100,000 (F-1). He has no prior criminal history.
Johnson has owned the company, on-and-off since 2007, and it is licensed through the state of Florida (CPC1458705).
Detectives have identified an ongoing systematic course of criminal conduct with the intent to defraud between April of 2016 and August of 2017, wherein seven homeowners were victimized, and several subcontractors were cheated out of payment. In all, Johnson attempted to gain $292,922.25, and managed to unlawfully garner $253,283.15.
The homeowners were left with unfinished, damaged, or shoddy work which did not meet code, in addition to liens against their homes, and additional bills and repair costs. Those who Johnson would communicate with were given plenty of excuses.
"Customers need to be able to trust the people with whom they do business. Typically, when there is a problem between the customer and business, it is a matter to be decided civilly. John Johnson didn't just leave a couple of customers unsatisfied, he conducted a pattern of deceptive and illegal behavior that cost people a lot of money." Grady Judd, Sheriff
Johnson was notified about the numerous complaints by the Polk County Building Division, and on July 7, 2017, he responded in a letter indicating health issues and a salesman/supervisor who unsuccessfully controlled the projects.
The following is a list of Johnson's victims (customers of Tropic Pools of Central Florida), and details of their problems with Johnson:
Thang Nguyen (Lakeland)-Contracted for $10,350.00 for initial work, Johnson collected $5,700.00 of that. A lien was placed on Nguyen's home after Johnson failed to pay a subcontractor for their work. Johnson left a cut wall unfinished, a large hole in the yard (which caused the concrete slab to collapse), and was performing electrical work for which he was not licensed.
Tammy Knoth (Lakeland)-Contracted for $42,385.20, Johnson collected $40,740.85. Ms. Knoth is a Stage-4 cancer patient who purchased her pool for her therapy. She had to pay an additional $7,434.00 to sub-contractors to avoid liens against her home. Work began on Knoth's home in April of 2016, and Johnson stopped communicating with her in May of 2017. The times that he did communicate with her, Johnson gave excuses: his truck broke down, the sub-contractors are busy, other jobs are taking too long, or he was stuck in Bartow at the courthouse. After consulting with other pool companies to repair the damage he did, she will have to pay between $20,000 – $40,000 to repair the faulty work.
Ruth and Reese Kimmons (Lakeland)-Contracted price for $32,000.00, Johnson collected $9,600.00. The Kimmons' had two liens filed against their home, because Johnson failed to pay subcontractors. This project began on 01/01/17, and Johnson ceased communication with Mr. and Mrs. Kimmons in August of that year, after he tried to get a final draw check from the finance company. He gave excuses such as: too busy with other jobs, subcontractors were running behind, or the subcontractors weren't returning his calls.
Arthur Fulmer, Jr. (Lakeland)-Contracted price for $50,600.00, Johnson collected $50,600.00. Mr. Fulmer learned from the Building Division that his pool is considered an "unusable, illegal pool." The pool deck is now sinking, the water does not work correctly, and electrical breakers keep tripping. Mr. Fulmer said that he had been misled into believing that the pool had passed inspection.
Amy Dunnahoe (Lakeland)-Contracted price for $53,400.00, Johnson collected $42,700.00. A lien was placed against Dunnahoe's home by one subcontractor, and she paid other companies to avoid more liens. The project began in June of 2016. Last communication with Johnson was in January of 2017. Johnson had told Dunnahoe that he wanted to make their pool a Parade of Homes pool, but ultimately left them with shoddy work, and excuses, such as his uncle died, and other jobs took too long. Another company provided Dunnahoe with a $22,000 quote to repair the problems with the pool. Dunnahoe told detectives she also broke her ankle tripping over faulty concrete tiles on her pool deck.
John Chu (Dover, FL)-Contracted for $51,325.00, Johnson collected $43,626.25. The pool has sat unfinished since June of 2017, and Johnson last communicated with Chu in September of 2017. There are liens against the property. Johnson offered several excuses to Mr. Chu such as: Johnson's septic tank needed repaired, there was a death in the family, the weather is bad, Johnson had a doctor visit to make, and Johnson's cell phone battery died.
Humberto Jimenez (Mulberry) -Mr. Jimenez is the owner of Jimenez Quality Pools, and was a subcontractor for Johnson. He is owed $52,862.05 by Johnson, for 32 jobs since April of 2016. In October of 2016, Johnson wrote two checks to Jimenez, but both checks were not honored due to non-sufficient funds.