UPDATE TO CRASH ON US 98 NORTH IN NORTH LAKELAND: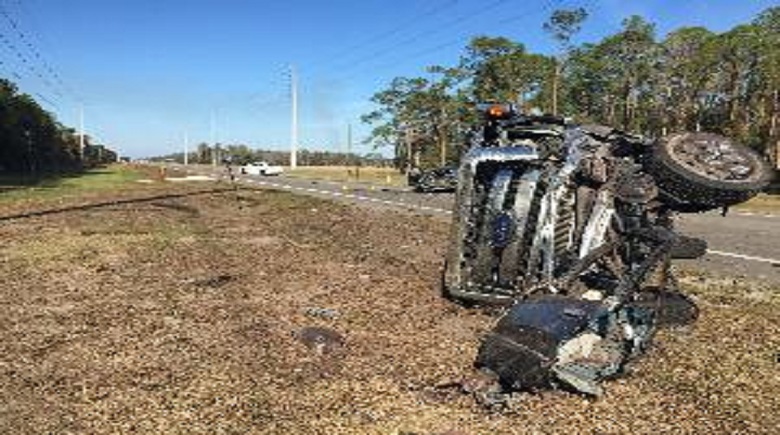 FINAL UPDATE TO TWO-VEHICLE CRASH IN NORTH LAKELAND:
At 5:58 a.m. this morning (Tues, Dec 19th) PCSO received a call in reference to a two-vehicle near head-on collision in the southbound lane of US Hwy 98 North, just north of CR 471, in north Lakeland.
Preliminary information indicates that 27-year-old Nathan Barron of Lakeland was heading northbound in a 1997 green Nissan Altima when for unknown reasons he crossed over into the southbound lane and was struck nearly head-on by a southbound 2014 green Ford F-250 being driven by 53-year-old Lawrence White, Jr., of Dade City.
Barron had to be extricated from his car, and was deceased on-scene. He was not wearing a seatbelt. He has a suspended driver's license.
White was transported to LRHMC with non-life-threatening injuries. He was wearing a seatbelt. No impairment on his part is suspected.
The speed limit in that area is 60 MPH. There was heavy fog at the time, with extremely limited visibility.
The road was shut down for several hours during the investigation and is open at this time. No charges are pending.
2nd Update:
The roadway is still shut down in that area, near CR 471 and CR 54. It may be cleared up in another hour.
The crash involved a near head-on collision between a Nissan Altima and a Ford F-250. Each vehicle had only an adult male occupant.
The driver of the Altima is deceased. The driver of the truck was transported to the hospital with non-life-threatening injuries.
Drive Safe!!!
Original Release:
TRAFFIC ADVISORY: PCSO deputies are working a two-vehicle crash, involving a pickup truck and a car, with serious injuries on US Hwy 98 North about 1/2 mile north of 471 and CR 54 in North Lakeland. There is nearly zero visibility due to fog. It is extremely dangerous driving in this area, and 98 is shut down where the crash occurred.
Northbound traffic on 98 is being turned around at 471 and CR 54. Southbound traffic traveling out of Pasco is also being turned around. Please advise motorists to use alternate routes until further notice.