Local Artist Presents Painting At Webber International University
by James Coulter
Lake Wales artist and muralist Tom Freeman honored Webber International University with a new painting during its Annual Donor Luncheon on Friday.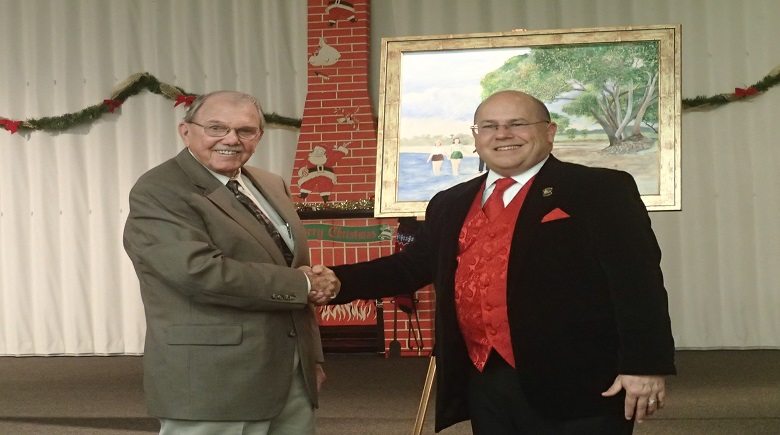 A longtime friend of the private college in Babson Park, Freeman presented the school with his new painting, which was inspired by an old black-and-white photograph from 1946 featuring several female students walking along the Webber lakefront.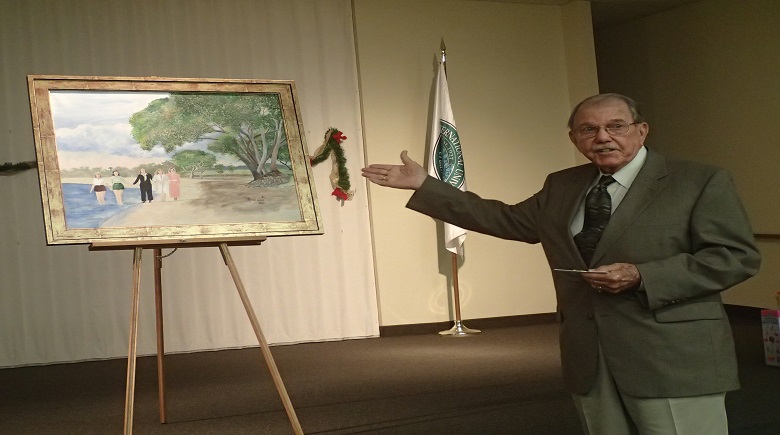 Founded in 1927, Webber University celebrated its 90th anniversary this year. As such, this painting was created to commemorate the milestone, and will be displayed alongside other paintings he has donated to the school.
Freeman had been a long-time friend of the school and its late founder, Roger Babson. During his presentation, he recalled the time back in 1965 when Babson offered him an autographed copy of his biography, "Yankee Genius."
At the time, Freeman was running a radio shop when he was contacted by Babson on Christmas Day to install a new radio in his bedroom so that he could listen to the Harvard Yale football game.
Babson was in bed sick, so he wanted to not only listen to the football game, but also wanted Freeman to keep him company and listen to the game with him, Freeman said.
To thank him for his cooperation and companionship, Babson presented him an autographed copy of his biography, which Freeman later donated back to the college as part of their library collection.
"He truly was one of the few geniuses in our lifetime," Freeman said. "He was an absolute genius and mathematician in the stock market. He was such a great guy who knew about everything."
Freeman has been active within the Lake Wales community as an artist and muralist, having created several prominent indoor and outdoor murals within the town, including his most recent mural within the lobby of the Lake Wales Hospital.
Prior to his current work as a full-time artist, Freeman taught art as an art teacher at Lake Wales High School, and later served as dean of students and assistant principal.
His work will be presented during an art exhibition in January at the Polk State College gallery on the Winter Haven campus, which will be displayed alongside the bronze wildlife sculptures of David Price, president of Bok Tower Gardens.
Freeman is also working with his wife, Marsha Freeman, on an art book showcasing wildlife and natural landscapes from the various counties within Florida.
"It is hard to imagine our artists circle without Tom Freeman, because Tom has been a mentor for many other artists in the area," said Anne Moore, Professor of Arts. "We thank you so much for painting this painting and adding this to our art collection."
Friday's event also served as the fifth annual luncheon for the Camilla Society, which was initiated to honor the school's many financial benefactors.
This year saw several such benefactors inducted into the Camilla Society, including Enterprise Holdings Foundation, Mark and Marguerite Costanzo, The Tom Perry Family Foundation, Roger Ingley, and McKenna Family Enterprises.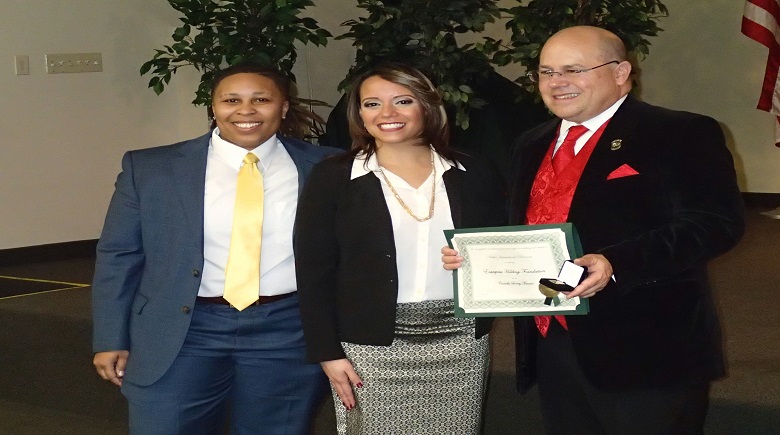 Also honored was Ms. Joann McKenna, a longtime community member and former employee of Webber, who was presented with a plaque commemorating her work.
"[She] directed the Adult Education Program for many years," explained Jennifer Mueller, Director of Annual Fund. "She has been a Webber supporter for over 50 years and made a significant impact on over 700 students during her time at Webber."
Providing entertainment was The Babson Park Elementary School Gnat Chorus, led by their Music Teacher, Samantha Havens, who helped get guests into the holiday spirit with Christmas music.
Webber University was founded in 1927 as the second school of business for women in the U.S., and was started as a recommendation by Babson's wife to help promote and encourage women in business.
Though the school was experiencing somewhat of a "tough year", it managed to move forward with several projects and additions, including a new bus and new bleachers in the gymnasium, explained President Keith Wade.
"We cut our teeth in the Great Depression, we did that and so much more," he said.