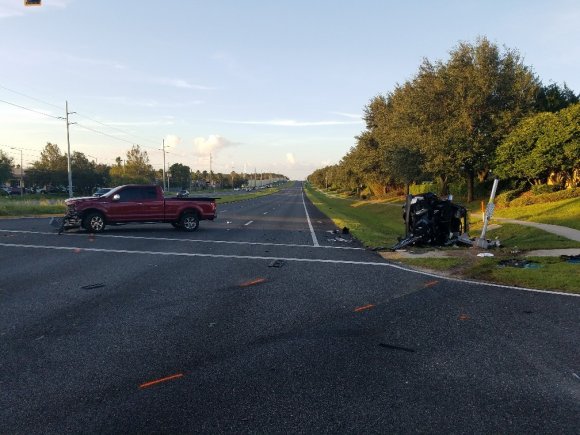 Polk County Sheriff's Office Press Release
The Polk County Sheriff's Office Traffic Homicide Unit is investigating fatal crash in Davenport
On Friday, October 20, 2017, around 4:18 p.m., PCSO Traffic Homicide Unit responded to a two-vehicle crash involving a 2016 blue Chevrolet Equinox and a 2006 red Ford F150, on U.S. Hwy 27 at the intersection of McFee Drive in Davenport.
Preliminary investigation suggests:
The Equinox, driven by Teresa Hughes of Bonita Springs, was traveling north on Hwy 27 when she ran the red light at the intersection of Hwy 27 North and McFee Drive. After running the red light, Teresa struck the front passenger side of Ford F150 driven by Joseph Mitchell of Davenport. He was the sole occupant of the truck. Mitchell was attempting to make a left hand turn into the Hampton Lake's subdivision from Hwy 27 southbound turn lane when he was struck.
The Equinox rolled over after the collision and Polk County Fire had to extricate both Teresa and Ralph Hughes from the vehicle.
67-year-old Teresa Hughes was later transported by air to Osceola Regional Medical Center and 76-year-old Ralph Hughes, the front passenger of the Equinox was declared deceased at the scene.
All parties were wearing seatbelts, and airbags deployed. Northbound lanes on U.S. 27 near this area was closed for approximately 4 hours.
The investigation is ongoing.