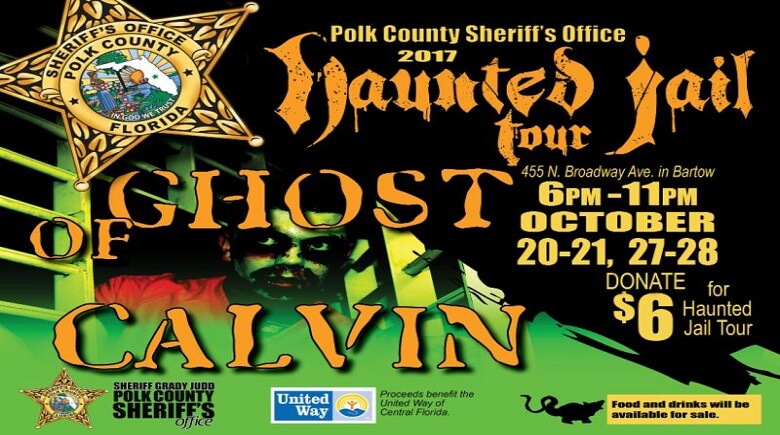 Back by popular demand, PCSO presents the annual Haunted Jail Tour benefiting The United Way of Central Florida.
From 6:00 pm through 11:00 pm, on Friday & Saturday, October 20th and 21st, and Friday & Saturday, October 27th and 28th, 2017, at the PCSO old jail located at 455 North Broadway Avenue in Bartow (across the street from Bartow P.D.), PCSO volunteers will present "The Ghost of Calvin."
For the little ones who are too young to go through the haunted jail, there will be a separate room with treats and games! Bring the whole family for a night of fun.
Food and drink will be on sale every night. 
The cost to go on the tour is a $6.00 donation with all proceeds benefiting the United Way of Central Florida.
Visitors will be taken through several areas, while being entertained with stories about the mythical "ghost of Calvin" – an inmate who committed suicide in the old jail and whose ghost still haunts the area.
Special thanks to Ronn & Sharon Williams, and Goodwill Industries-Suncoast, Inc., for donating a truckload of props, and Dr. Paul Bearer II, who filmed several videos with Sheriff Judd about the tour, and videos that will be played on the premises (we will post the videos on the PCSO Facebook in the coming weeks).
If you thought the Tour was good last year….just wait and see what we have come up with this year!!!   
For more information, please contact Sergeant Victor Diaz at 407-870-3489.