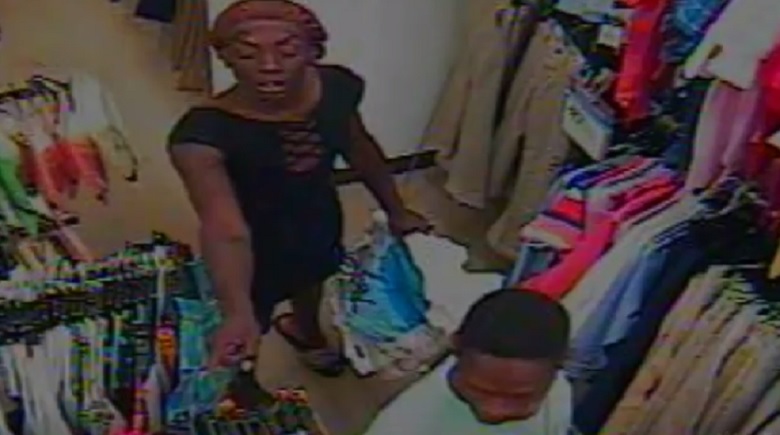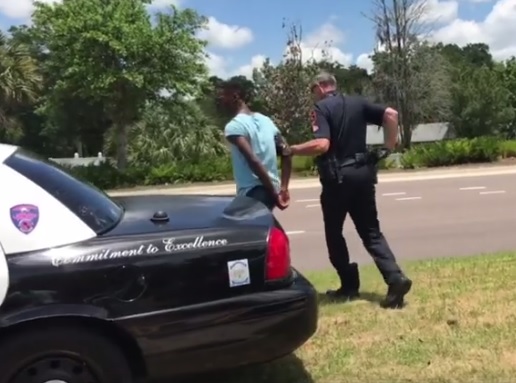 LAKELAND, FL (June 29, 2017) –  On June 29th at approximately 12:29 p.m., the Lakeland Police Department responded to Belks, 1400 Town Center Drive, in reference to a shoplifting in progress. The store loss prevention employee, Wemer Dangelmaier, observed three suspects enter the south entrance of the store. The three suspects appeared to be the same suspects from the previous week that fled with a large amount of merchandise without paying.
Dangelmaier stated that the suspects began picking up merchandise and placing it over their arms. At one point, they pulled out empty plastic Belk bags and started placing the merchandise into the bags. Some of the merchandise consisted of Polo and  Nike brand children's clothing. The total amount of merchandise concealed in the bags totaled $2,711.00.
One of the suspects, Renford Patterson, was dressed as a girl wearing a dress. Dangelmaier had already alerted the Lakeland Police Department and officers were positioned outside of the store waiting for the suspects to exit. As the suspects exited, they observed the marked police cars and began to run. One of the suspects dropped a bag of stolen merchandise. The suspects managed to get into their vehicle, a 2011 silver Hyundai, and flee the parking lot to avoid apprehension.
At this time, Sergeant Tom Collins was responding to the scene and observed the suspects fleeing in the parking lot. Sgt. Collins attempted to catch up to the vehicle to obtain a tag number at which time his marked police car skidded as he turned, causing him to hit a tree on the Southside of the parking lot by Belks. Sgt. Collins received several abrasions as a result of the airbag deploying.
The suspects were observed exiting Lakeside Village onto Harden Boulevard at a high rate of speed. Officers did not pursue the vehicle nor did they initiate any emergency equipment. The suspects vehicle description was given out over the police radio and an officer at Lime Street and Harden Boulevard observed the vehicle driving with a right front blown tire. The vehicle was traveling approximately 20 miles per hour at this time.
Officers followed the vehicle and the suspects pulled over on George Jenkins Boulevard at Kathleen Road. They were taken into custody without incident. The merchandise was returned to Belks and additional merchandise was recovered from other retail stores.
Arrested:
Driver – Renford Patterson, 24 years old, 2853 LB McLeod Road Apt D, Orlando, Florida. Charged with Grand Theft and Driving on a Suspended Driver's License. Renford also has warrants out of Hardee and Orange Counties for Failure to Appear on a Suspended Driver's License and Felony Retail Theft.
Front Passenger – Archibald Green, 21 years old, 825 Citrus Street, Orlando, Florida.  Charged with Grand Theft. Green has a warrant from Orange County for Grand Theft.
Rear Passenger – Kentavia Furlow, 25 years old, 627 W. Gore Street, #120, Orlando, Florida. Charged with Grand Theft