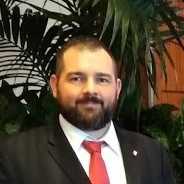 Lakeland Chamber Of Commerce Blog by Cory Skeates
Matthew A. Treskovich, CPA/PFS, CFP®, CMA, MBA, with CPS Investment Advisors, has received the Personal Financial Planning (PFP) Standing Ovation from the American Institute of CPAs (AICPA). He is one of 16 CPAs to receive this award, which will be presented at the AICPA's Advanced Personal Financial Planning Conference in Las Vegas.
"The AICPA is pleased to recognize each of these honorees for their contributions to personal financial planning," said Andrea Millar, CPA/PFS, AICPA's Director of Personal Financial Planning. "Each of these young PFS credential holders has gone beyond providing excellent client services to earn this honor. Their work underscores the contribution CPAs are able to make in the field of financial planning at an early age." The Standing Ovation program recognizes young CPAs who exhibit outstanding professional achievement in specialization areas.
Treskovich joined CPS Investment Advisors in 2016 after spending 18 years in the insurance industry, and 12 as CFO of an insurance brokerage. Matt has a Bachelor's degree in Physics from the University of Central Florida, and an MBA from the University of Phoenix. He is a Certified Public Accountant, Personal Financial Specialist, CERTIFIED FINANCIAL PLANNER™ and a Certified Management Accountant.
"Matt is a valuable asset to our firm and to our clients. He is exemplary when it comes to financial planning and goes beyond all elements to help our team every day. He is well deserving of this distinguished honor," said Peter Golotko, CPA/PFS, MBA, President of CPS Investment Advisors.
Complete Article Here: Lakeland CPA Recognized As One Of The Top Financial Planners In the Nation