On 06/19/2017, 3:40 AM, PCSO Emergency Communications Center (ECC) received a 911 call regarding a single vehicle crash at the intersection of County Line Road and Swindell Road, Lakeland. Fire and Medic units responded and determined the single occupant of the vehicle was deceased.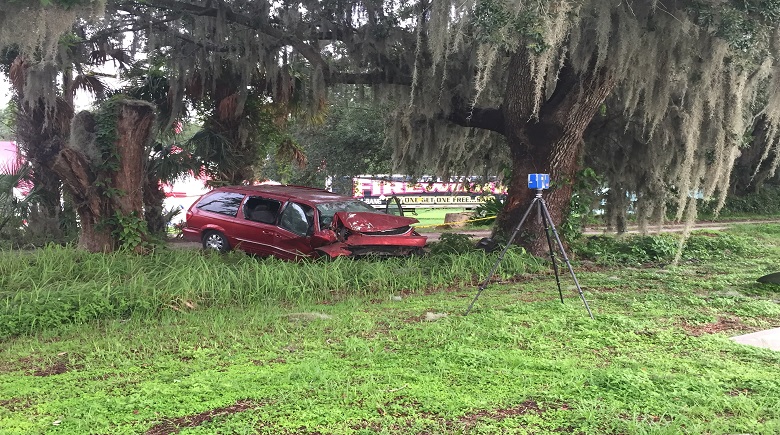 The area of the crash is a "T" intersection where County Line Road intersects with Swindell Road. County Line Road in the area of the crash is a four lane highway with divided grass median that travels in a north/south direction. The northbound lanes are marked for left and right turns only. Two stops signs are installed on the east and west sides of the roadway. There are no paved roads on the north side of this intersection. Swindell Road in the area of the crash is a three lane road with westbound and eastbound through lanes. There is also a westbound left turn lane for traffic to turn onto southbound County Line Road. The speed limit on County Line Road in the area of the crash is 45 mph. It was dark at the time of the crash with street lights providing some illumination.
Evidence at the scene indicates that a 2004 red Chrysler Town & Country van, was northbound on County Line Road at Swindell Road, Lakeland. The driver, 33-year-old Jennifer G. Hallman of Plant City, appeared to be driving over the posted 45 mph speed limit and failed to see the stop signs at the intersection. The van travelled through the intersection, striking a cautionary sign indicating vehicles had to turn left or right, and continued north approximately 80 feet until it struck a large oak tree. After striking the tree, the van rotated clockwise around it 90 degrees, coming to final rest facing east.
The airbags in the van deployed, but it does not appear as if the driver was seat belted.
Speed appears to be a factor in this crash. Impairment and distraction are not known at this time, and are under investigation.