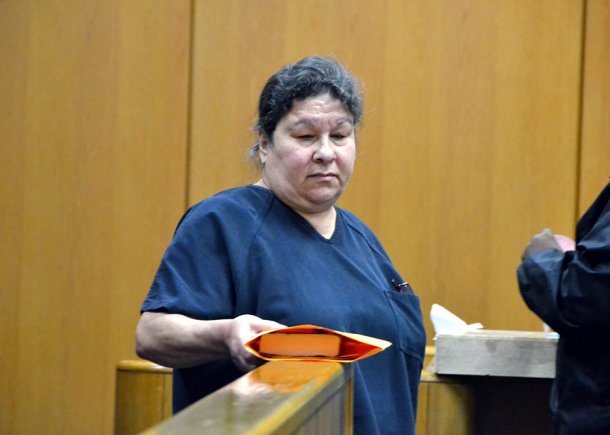 Bartow, Florida – After about an hour and a half of deliberation, Victoria Collins was found guilty today of the first-degree murder of Gary Greenfield, says the state attorneys office. Jurors also convicted her of tampering with physical evidence and three counts of petty theft. The state attorney's office would go on to say that Judge Harb sentenced her to life in prison this afternoon.
Victoria Collins, was indicted by the grand jury for First-Degree Murder, Tampering with Evidence, and two counts of Grand Theft in the homicide of 65-year-old Gary Greenfield in December of 2015.
On July 29, 2015 the badly decomposing body of Gary Greenfield was found in an area behind a mobile home he was renting from Collins, on Windsong Drive in Lakeland. According to published reports Collins was married, but had been in love with Greenfield for over 40 years. She and her husband moved to Florida a few years ago and Greenfield, an over the road truck driver, eventually followed. They had continued the affair with Collins renting him a trailer without notifying her husband.
Greenfield had a high dosage of ambien in his system when his body was found, 6 weeks after the last time anyone saw him alive. Collins had a prescription of that ambien. The case may have never been solved if it wasn't for a weird circumstance that lead PCSO deputies to interview Collins according to an article by Channel 8 news.
"Detectives couldn't pin the suspect until an unlikely source handed over some vital information.
A Lakeland Ledger reporter, Clifford Parody, left his personal number for Collins. Parody soon received a call from someone using a different name. The caller gave a concocted story, hoping the paper would jump.
"Her hope was the media would run this elaborate story," Judd said. "They figured out early on that didn't pass the smell test."
"The information she gave to The Ledger reporter clearly told us that no one but the murderer and the homicide detectives knew that information," he added.
Detectives traced the call back to a phone Collins purchased at a Walmart"