PCSO Deputies Charge Polk County Jail Inmate with DUI Manslaughter in the Death of His Father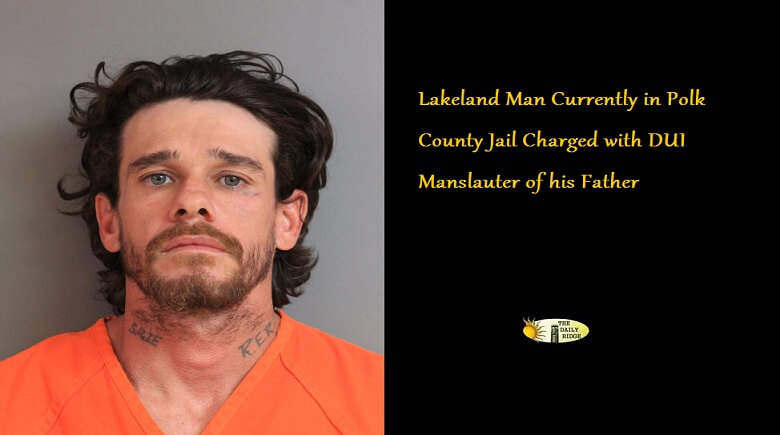 On Tuesday, April 4, 2017, PCSO deputies additionally charged Polk County Jail inmate, 33-year-old Ronald "Ronnie" Rice, Jr., of Lakeland, with DUI Manslaughter, in the death of his father, 56-year-old Ronald Rice, Sr., after his father recently succumbed to injuries sustained in a crash that occurred on January 21, 2017, for which Rice, Jr., was already in jail and charged with DUI Leaving Scene Involving Bodily Injury. 
The following is an excerpt from the original affidavit, and is self-explanatory:

AFFIDAVIT: On January 21, 2017, at approximately 1717 hrs Ronald Rice Jr. (DOB 8/3/1983) was seen by witnesses to be operating his gray 2000 Ford Mustang recklessly in the yard of his private residence located at 4404 Hedge Dr. South, exit into the roadway from this yard onto Hedge Dr. South, and continue northbound on Stokes Rd. in Lakeland. 
These observations were made by a witness who is a neighbor of Rice Jr. and Rice Sr. and knows both of them personally. 
The witness stated he observed Rice Jr. to exit the driver seat of the vehicle and attempt to walk up the front stairs of his home and stumble. The witness stated he heard Rice Jr. state multiple times, "Come on pops, get out of the car." The witness stated that based on his observations, the speech and dexterity of Rice Jr. and his past knowledge of these traits of Rice Jr., he believed he was impaired by drugs and/or alcohol both when he exited and when he got back into the vehicle. 
The witness places Rice Jr. in actual physical control of the Mustang at the time of this incident and then also leaving the scene.
While Rice was operating this vehicle several witnesses stated they observed a dark in color object under his vehicle and which appeared to be pinned between the undercarriage of the vehicle and the roadway. Witnesses then saw this object come out from under the vehicle and tumble to final rest. Witnesses then immediately identified the object as Ronald Rice Sr., and began to render aid.
The suspect vehicle then continued northbound with no attempt to slow down, stop or turn around. Multiple witnesses indicated they believed the vehicle sped up as it was leaving the scene.
A short while later Rice Jr. arrived at the home of friends. Upon his arrival he rolled his vehicle to a stop coming into contact with a wooden privacy fence and was parked in a highly unusual manner, diagonally across the front easement area of their home. Both friends saw Rice Jr. seated in the driver's seat of his vehicle and for the vehicle to be running and operational. There was a small scratch on the fence from where the vehicle Rice was operating came into contact with it but neither friend was willing to report this damage as attached to a vehicle crash.
Both friends stated they have known Rice Jr. since they were little kids. Both stated that when Rice Jr. arrived at their home he was severely impaired, stating it was the most impaired they had ever seen him. They were concerned enough for his safety that they removed the keys from the ignition of the vehicle and put them where Rice Jr. could not get to them.
Both friends stated that Rice Jr. nearly fell out of his vehicle when exiting, had poor speech pattern, had trouble walking and standing as well, and was highly emotional. They stated they had no doubts Rice Jr. was impaired and could not operate a vehicle safely. Both also stated that Rice Jr. repeatedly stated he (Rice Jr.) was in big trouble because he had "screwed up" and needed to go check on his father.
The suspect, Ronald Rice Jr. was located by deputies as he was walking along Stokes Rd and was later transported to the PCSO Southwest District substation for interviewing. During the first law enforcement interaction with Rice Jr. he was observed to be highly impaired. This conclusion was based on his inability to walk or stand, slurred and mumbled speech, strong odors of alcoholic beverage and a distinct chemical odor coming from his person. This strong odor is recognized as one common with the abusers of methamphetamines. These observations continued for the next couple of hours of the investigation and subsequent interview. 
During this interview Rice stated he was the owner of the vehicle and the only person, besides his father, who was allowed to drive the vehicle. Rice admitted to driving immediately before this incident and then arriving at a friend's house. Rice was unwilling or unable to recall the details of the actual incident.
Ronald Rice Sr. was seriously injured during this crash and received multiple broken bones to include a fractured pelvis. Rice Sr. also went into cardiac arrest as a result of this crash. Rice Sr. is still on a ventilator, at Lakeland Regional Health, since the date of this crash. Rice Sr. is not responding to verbal commands and only responds to pain stimulus to his lower extremities and has a gag reflex. This is described, by Lakeland Regional Health staff, as ongoing life threatening issues and it is unknown if Rice Sr. will survive.
Based on the totality of the evidence, witness statements and suspect statements Ronald Rice Jr. violated F.S.S. 316.193(3)(C)(3) – DUI causing Serious Bodily injury. Rice Jr. was operating a vehicle at the time of this crash, caused the serious bodily injuries of Ronald Rice Sr. and was impaired to the level he could not safely operate a vehicle. Ronald Rice Sr. is an adult human being. These acts were willful and intentional with Rice Jr. knowing or should have known that his actions were likely to result in the injuries or death of another person.
On February 27, 2017, Rice Jr. was booked into the Polk County Jail for DUI Leaving the Scene of a Crash Involving Serious Bodily Injury, and was being held on $50,000 bond. Rice Sr. remained at LRHMC with the injuries caused by Rice Jr., but succumbed to his injuries on March 27, 2017. The additional charge of DUI Manslaughter was filed against Rice, Jr., today (April 4, 2017).
"Ronnie Rice, Jr., killed his father while driving impaired. The next time you get behind the wheel of a car, think about how your actions can forever change not just one person's life, but an entire family. Please, do not drive drunk or impaired. It's not worth all of the pain and sorrow that can result from it." –
Grady Judd, Sheriff