Deputies arrest Lakeland attorney for DUI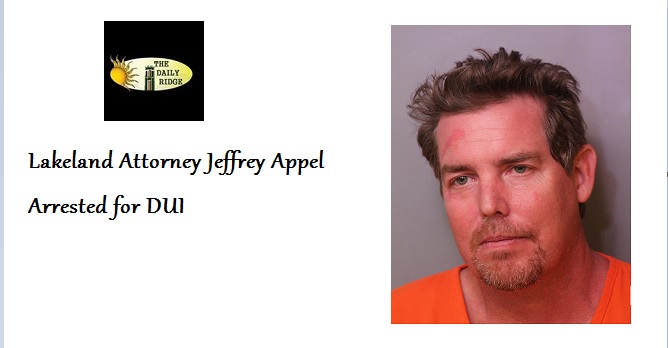 On Wednesday, March 29, 2017, deputies arrested 49-year-old Jeffrey Appel of Lakeland for one count DUI and one count DUI with property damage.
Below is an excerpt from the affidavit and it is self-explanatory. Appel was arrested and transported to the Polk County Jail, and is being held on a $750.00 bond.
"On the above date and time, I responded to 625 Commerce Drive to assist D/S Vaughn (7217) on a traffic crash where the driver of one vehicle was reported to be possibly impaired. Upon arrival, I observed that there was a maroon Chevy Silverado stopped at the entrance to 625 Commerce Drive. I observed that the front half of the truck was in the westbound lane on Commerce Drive and the back half was still in the parking lot. I observed that there was a white male sitting in the driver seat of the truck slouched over onto the center console.

I made contact with D/S Vaughn who advised me that the subject in the truck was identified as Jeffrey Appel via Florida driver license. D/S Vaughn advised that Jeffrey appeared extremely intoxicated.

I made contact with Jeffrey Appel who was seated in the driver seat of his truck. I asked Jeffrey if he was ok and he said that he was. I asked if he was injured and he said no. I asked if he had any medical condition, to include diabetes and epilepsy, and he said no. I asked if he had any physical limitations and he said he was ok. I explained to Jeffrey that D/S Vaughn was conducting the traffic crash investigation and I was conducting a criminal investigation for DUI. I asked Jeffrey if he understood and he said he was ok. As I was talking to Jeffrey, he started getting out of the truck mumbling something. I stepped back and observed that Jeffrey appeared extremely lethargic and uncoordinated. Jeffrey used the door to support himself as he exited the truck. I had to put my hand up to prevent him from falling and kept my hand on his back as he tried to walk to the back door of his truck. Jeffrey opened the back door and slowly climbed into the back seat and sat down. When Jeffrey opened the back door, I observed that there were four (4) empty 12 oz Coors Light beer cans in the back door panel. I observed that there was one (1) empty 12 oz Coors Light beer can on the back left passenger floor board and an empty 12 pack of Coors Light cans on the right rear passenger floor board.

I asked Jeffrey to exit the truck and submit to field sobriety, he said he was ok. I again asked Jeffrey if he could step out of the truck and he complied. I observed that Jeffrey again exited the truck extremely slow and uncoordinated using the door for support. I observed that Jeffrey fell back into his truck as he attempted to step towards me (away from the truck). I observed that Jeffrey swayed back and forth (front to back and side to side) as he stood in front of me. I observed that he would lose his balance and take a step to keep from falling. I attempted to have Jeffery comply with the HGN test but stopped as he was unable to maintain balance and unable to follow stimulus.

Based upon my training and experience, I determined the Jeffrey Appel was unable to operate a motor vehicle safely.

I arrested Jeffrey Appel for DUI and transported him to the Polk County Jail without incident. Upon arrival at the jail, I began my 20 minute observation period at approximately 1458 hours. While I was conducting my 20 minute observation period, Jeffrey was being processed by booking staff. When Jeffrey was asked to take his shoes off, he bent over to comply and lost his balance resulting in him falling to the ground.  At the end of the 20-minute observation period, I asked Jeffrey to submit to a lawful test of his breath and he stated that "nah". At approximately 1524 hours, I read Jeffrey Implied Consent. Jeffrey stated and as I was asking question 3 for Implied Consent, Jeffrey interrupted me and said that he would comply with the breath test.

I escorted Jeffrey into the Breath Test Room and had him sit in the chair next to the instrument. When it was time to provide the first sample, Jeffrey blew for a few seconds providing the proper tone and then stopped. I explained to him that he needed to keep a consistent air stream to provide a proper sample. Jeffrey continued to provide a proper sample for a few seconds and would then stop but acted like he was still blowing. I would pull the mouthpiece out of his mouth and there would be no sound of air coming out of his mouth. The time for the first sample expired and I explained that if he failed to provide a proper breath sample it would constitute a refusal; Jeffrey stated that he did not want to continue with the breath test. I informed Jeffrey that we were going to sit there until the time expired for the second sample in case he decided to provide a breath sample. Jeffrey did not provide a second sample and did not provide any proper breath samples.

Due to the extreme signs of impairment, the jail nurse advised me that Jeffrey needed to be medically cleared prior to being accepted by the jail. I transported Jeffrey to Bartow Regional Medical Center for medical clearance.

I was advised by Dr. James Smith (BRMC ER) that the toxicology report showed Jeffrey Appel to have a BAC of 0.398 g/100mL of blood."