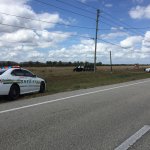 PCSO is on the scene of a traffic fatality on US Hwy 27 southbound, between Cypress Gdns Blvd and Thomspson Nursery Rd, between Winter Haven and Lake Wales.
Preliminary information : PCSO received a call in reference to a suicidal person in Winter Haven who, when deputies located him as he was sitting in his truck, he fled, ending up heading southbound on US Hwy 27.
While fleeing from deputies he intentionally slammed into two separate vehicles, sending at least one person to the hospital.
A deputy sheriff who is trained in and an agency instructor for the precision immobilization technique (PIT), utilized the maneuver on the truck to eliminate his threat on other drivers. When the deputy utilized the technique, the truck left the roadway, and began the roll. The driver was not seatbelted, and was ejected. He was airlifted to LRHMC, where he was pronounced deceased.
We are still in the process of notifying next of kin.
We will bring you more information as it becomes available.