PCSO Deputy uses PIT Maneuver After Suicidal Suspect Rams Cars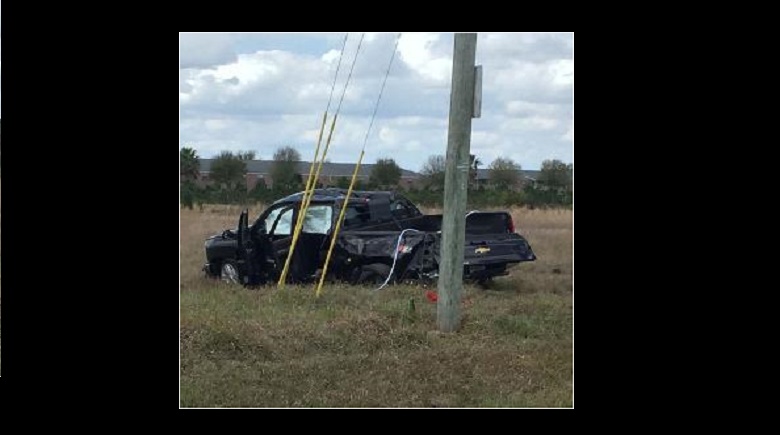 UPDATE:  The name of the suspect in yesterday's fatal crash on US 27 is James Sands, DOB 8/21/70, of 1951 Lake Daisy Rd lot 213, Winter Haven.
PCSO Deputy Uses PIT Maneuver After Suicidal Suspect Rams Cars
At 7:45 a.m. on Wednesday, March 8, 2017, the PCSO Emergency Communications Center (ECC) received a call from a man requesting to speak with a deputy sheriff. The man told the dispatcher that he wanted to kill himself and was driving around Winter Haven. He refused to provide his address or location to the dispatcher, and then hung up the phone. Deputies responded to the Winter Haven area in an attempt to locate him.
At 8:09 a.m., a priority one (emergency) call came in to the PCSO ECC from On-Star, alerting them that a driver (the same man) was driving around in his truck, saying he was going to "kill himself and a deputy sheriff." On-Star linked the call to the ECC, and the man hung up. On-Star remained on the line with the ECC and gave the dispatcher information from their conversation with the man, repeating that he said he was armed with a gun and was going to shoot himself and a deputy.
We have positively identified the suspect, however, we are still trying to locate his next-of-kin, who may be out-of-state. Once we are able to locate them and notify them, we will release his name.
Thanks to the information provided by On-Star, deputies located the suspect as he was driving eastbound in his black Chevrolet pickup truck on Dundee Road approaching US Hwy 27. They turned on their emergency equipment, but he refused to stop, and headed southbound on US Hwy 27, where deputies set up stopsticks. The suspect hit the stopsticks and continued south on US Hwy 27 with a flat tire. The suspect intentionally rear-ended a Toyota truck that was in front of him. He then intentionally rear-ended a Ford Explorer (whose driver was transported to Winter Haven Hospital with injuries) before being stopped during a precision immobilization technique (PIT) administered by Master Deputy Sheriff Mike Ard, who is a certified agency PIT instructor.
The PIT was successfully implemented, and the suspect's truck left the roadway, then began to roll, ejecting him. He was not wearing a seatbelt. This occurred on US Hwy 27 halfway between Cypress Gardens Blvd and Thompson Nursery Road, in Winter Haven. The suspect suffered critical injuries and was airlifted to LRHMC, where he was pronounced deceased.
After the crash today, deputies responded to the suspect's Winter Haven home, where they found notes he left behind, and his dog tied up with instructions. The notes indicate he was intent on killing himself.
"Deputies once again put themselves in harm's way to protect the community from an out-of-control suspect set on killing himself and others. Thankfully, the victims who were intentionally struck by this suspect as he fled down US Hwy 27 were not more critically injured." – Grady Judd, Sheriff
The investigation is ongoing. US Hwy 27 southbound is re-opened to traffic at this time.