Circle B Bar Reserve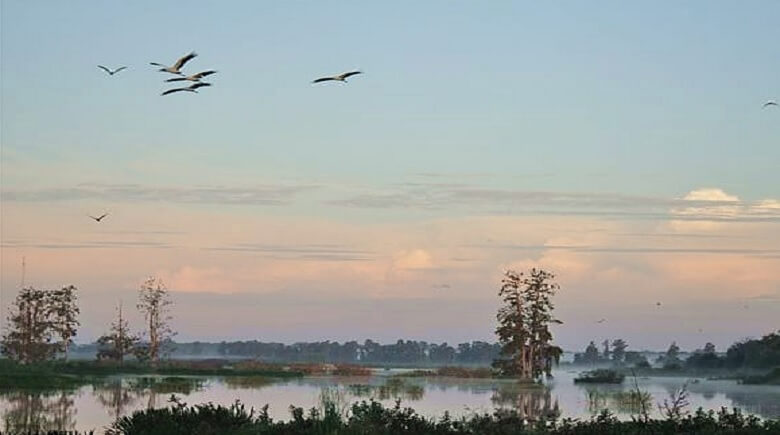 Street Address
4399 Winter Lake Road (SR 540)
Lakeland, FL 33803
(Google map)
Size
1,267 acres
Hours of Operation
Daily from 6 a.m. to 6:30 p.m. during standard time and from 5:30 a.m. to 8 p.m. during daylight-saving time.
About Circle B Bar Reserve
Recreational OpportunitiesNamed after a cattle ranch that once existed on this property, Circle B Bar Reserve was jointly acquired by the Polk County Environmental Lands Program and the District to protect the floodplain of the lake and to restore the Banana Creek marsh system. The property is maintained by Polk County. Much of the property had previously been converted to pasture, but in 2005 and 2006, restoration projects were completed to restore much of the original hydrologic function of the lands. As a result of the marsh system restoration project, Circle B is now home to some of the most impressive bird activity on District property. The tremendous bird population includes a variety of wading birds, waterfowl, ospreys and bald eagles. Alligators inhabit Lake Hancock and may be observed at a distance from shore or from a pier. Oak hammock, freshwater marsh, hardwood swamp and the lakeshore are among the unique characteristics of this property.
Polk County Nature Discovery Center
In November 2008, construction of the Polk County Nature Discovery Center was completed. Managed by the Polk County Natural Resources Department, the center provides educational opportunities for Polk County public schools and is open to the public. There are exhibits in the center that display environmental and hydrologic functions of Florida's natural resources. Nature trail, pavilion and information signs are available for public use on the grounds adjacent to the center.
Bicycling
Numerous trails and roads available throughout the property.
Florida law requires bicyclists under 16 to wear helmets.
Bird Watching
Fishing
Available in Lake Hancock.
Contact FWC for license requirements.
Hiking
Alligator Alley Trail (2.5-mile roundtrip) is an unpaved trail running from parking area to Lake
Hancock.
Marsh Rabbit Run is an unpaved trail that runs through Banana Creek Marsh.
Brochure describing trails available at trailhead.
Picnic Facilities
Picnic tables are located along the road between the main entrance and the Nature Discovery Center.
Access and Parking
South of Lakeland on SR 540, entrance to park is on south side of road.
ADA access and facilities available.
Restrooms and Water
Restroom facility and water located at Polk's Nature Discovery Center.
Location
Northwestern Polk County, south of Lakeland
For More Information
Polk County Natural Resources Department, (863) 534-7377