Habanero Hot Wings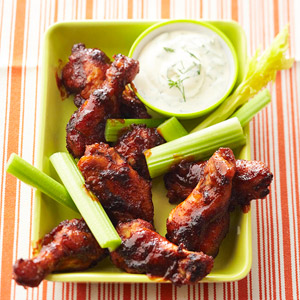 Makes:

12 servings

Prep

25 mins

Bake

45 mins
ingredients
Nonstick cooking spray


2

tablespoons onion powder


1

tablespoon garlic powder


2

teaspoons smoked paprika or sweet paprika


2

teaspoons dried cilantro, crushed


1

teaspoon dry mustard


1/2

teaspoon chili powder


1/4-1/2

teaspoon ground habanero chile pepper


12

chicken wings (about 2 pounds)


1/2

cup bottled hickory barbecue sauce


2

tablespoons peach spreadable fruit or desired fruit preserves (such as peach, pineapple or orange)


1

tablespoon bottled steak sauce or ketchup


1

recipe Dill Dipping Sauce, Celery Dipping Sauce, or Feta Dipping Sauce (see recipe below)

 directions
Coat a 15x10x1-inch baking pan with cooking spray; set aside. In a resealable plastic bag, combine onion powder, garlic powder, paprika, cilantro, mustard, chili powder and the 1/4 teaspoon habanero chile pepper; set aside.

Cut off and discard tips of chicken wings. Cut wings at joints to form 24 pieces. Place chicken wing pieces in plastic bag with seasoning mixture. Seal bag; toss to coat wings with seasoning mixture. Arrange wings in prepared pan. Bake in a 375 degree F oven for 25 minutes.

For sauce, in a small saucepan, combine barbecue sauce, spreadable fruit and steak sauce. Cook and stir until the ingredients are blended; set aside.

Carefully brush wings with half of the sauce. Turn wings and brush with the remaining sauce. Bake for 20 to 25 minutes more or until chicken is tender and no longer pink. Serve with your choice of Dipping Sauces and remaining barbecue sauce mixture. Makes 12 appetizer servings.
Dill Dipping Sauce
ingredients
3/4

cup mayonnaise


1/4

cup plain yogurt


1

teaspoon snipped fresh dill or 1/4 teaspoon dried dillweed

 directions
In a small bowl combine mayonnaise, yogurt and fresh dill or dried dillweed.