THEATRE WINTER HAVEN
Announces the Opening of
MILLION DOLLAR QUARTET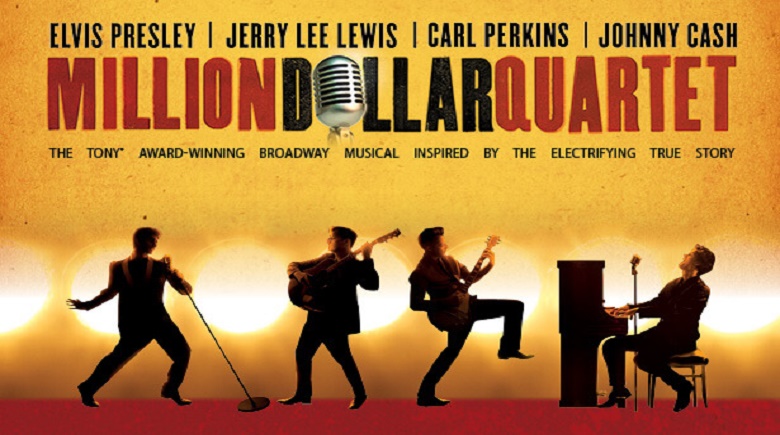 Theatre Winter Haven located in the Chain of Lakes Complex at 210 Cypress Gardens Blvd, SW – Winter Haven, FL. announces the opening of
MILLION DOLLAR QUARTET
.  This show runs 
February 16 through March 12, 2017
 (Thursdays through Sundays).  Reservations can be made by calling 863-294-SHOW (7469), visiting the Box Office or by going on-line to
www.TheatreWinterHaven.com
.  Ticket prices are $24 for adults and $19 for students.
Million Dollar Quartet is the smash-hit musical inspired by the famed recording session that brought together rock 'n' roll icons elvis Presley, Johnny Cash, Jerry Lee Lewis and Carl Perkins for the first and only time.  On December 4, 1956, these four young musicians gathered at Sun Records in Memphis, Tennessee to meet producer Sam Phillips for what would be one of the greatest jam sessions ever.  This thrilling musical brings you inside the recording studio with four major talents who came together as a red-hot rock 'n' roll band for one unforgettable night.
The cast of characters is as follows:
Elvis Presley – Torin Geoffrey
Carl Perkins – Marcus Brixa
Jerry Lee Lewis – Philip King
Johnny Cash – Doug Laver
Sam Phillips – Sean Philibin
Dyanne – Laura Modrall
Brother Jay – Kemp Brinson
Fluke – P.J. Lalka
This show is Co-Produced by Fischer, Schemmer, Silbiger, Moraczewski, MD PA, Ophthalmology Associates and Winter Haven Oral Surgery
Director:  Katrina Ploof
Stage Manager:  Alaina West
Music Director:  Philip King.