Deputy Chief Robert Weech Joins Polk County Fire Rescue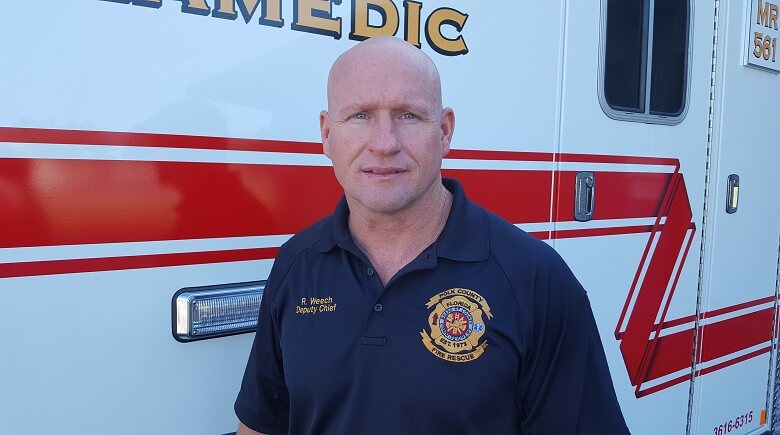 BARTOW, Fla. (
February 8, 2017
) –
Robert Weech has joined Polk County Fire Rescue as its Deputy Fire Chief of Logistics and Special Services. He is now responsible for fleet, facilities, warehouse operations and information technology.
"That's to start," Fire Chief Tony Stravino said of Weech's responsibilities. "I have had the privilege of working with Chief Weech in the past. He is a consummate professional. His experiences will help us move Polk County Fire Rescue forward."
Weech spent his firefighter career in a single-tier fire rescue system. This means every EMS or fire response, regardless of call type, receives the same level of person.
"I'm very excited to be here," Robert Weech said. "Over the last few weeks I've been getting to know the county better."
Weech began his firefighting career with the City of Deerfield Beach Fire Rescue in 1999. He worked through the ranks and became the assistant chief of administration in 2008. When the City of Deerfield Beach Fire Rescue merged operations with the Broward Sheriff's Office Department of Fire Rescue in 2011, he initially served as division chief of finance and was subsequently promoted to assistant chief of operations.
Prior to his service in fire services, Weech worked as a certified public accountant for a large international accounting firm.
Weech has an accounting degree from Florida State University and a masters degree in Organizational Development from Upper Iowa University. Weech has attended several executive development trainings, including the National Fire Academy Executive Fire Officer. He is also a member of the International Association of Fire Chiefs.
Weech and his wife Cathy have two daughters, Madison and Kennedy.