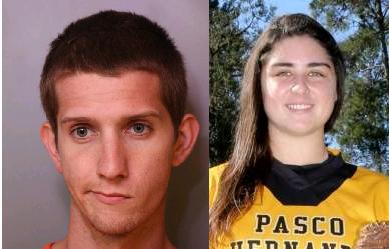 Pasco County, Florida – On Monday, January 23, 2017, deputies from the Polk County Sheriff's Office served a Pasco County arrest warrant on Scott Thomas Yutzy, Jr. of Lakeland. The warrant was for DUI Cause Death To Human and Homicide Negligence. The arrest stemmed from an accident back on April 25, 2016.
According to the Florida Highway Patrol on April 25, 2016 Brooke Ashlee Gonzalez, 19, of Citra, Florida was walking West along State Road 52 near Chenwood Avenue when she was struck at about 10 p.m., troopers said Yutzy, 22, lost control of his 1999 Ford Escort before the collision. Investigators said. Gonzalez was walking on the concrete sidewalk at the time of the crash. The Escort stopped after hitting a guardrail. At the time of the crash charges were pending, but no details were provided.
Yutzy reportedly sustained minor injuries.
According to an article in the Tampa Tribune Gonzalez, who was a sophomore at Pasco-Hernando State College, was set to earn her associate degree with a 3.5 GPA and wanted to have a career in fire rescue. The article went on to say that she was a member of the softball team and played first base with a .416 batting average.
"This is such a tragic loss, she was doing a nice little run last night and then the car came speeding down the road, and that is when the accident occurred," Pasco-Hernando head softball coach Tom Ryan said.
"She was exceptional," Ryan said. "Brooke was a person that everybody needs to emulate. From her work ethic and her work habits to her athletic ability. She was just an extremely popular and well-loved student athlete at the campus."
"She was a role model to a lot of her friends and teammates and had a lot of qualities that we all should aspire to have."
At the time of this article the details of the arrest warrant from Pasco County were not available. We will update this information as it becomes available.