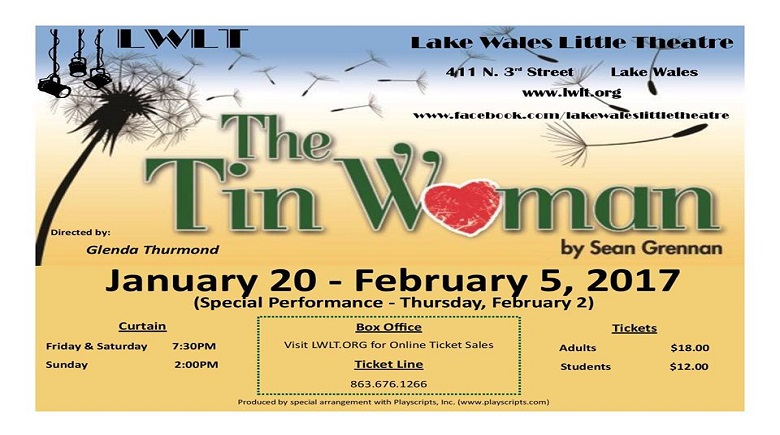 The Lake Wales Little Theater presents the play The Tin Woman, opening January 20th with performance dates running from January 20 – February 5, 2017.
There will also be a special performance that will be presented on Feb. 2nd.
THE TIN WOMAN
Instead of relishing life after her heart transplant, Joy enters a downward spiral, unsure whether she truly deserves a second chance.
Meanwhile, Alice and Hank mourn the loss of their son, Jack, whose heart was used to save Joy.
At a friend's urging, Joy tracks down Jack's family to find closure. But are Alice, Hank, and their daughter Sammy ready to accept Jack's death?
Based on a true story, The Tin Woman uses humor and pathos to explore loss, family, and what it means to be given new life.
Performances begin at 7:30 PM — Tickets cost Adults: $18.00 and 18 and Under: $12.00
Matinee performances are on Jan 22nd, Jan 29th and Feb 5th at 2PM…there are no 7:30 PM showings on these days.
MORE ABOUT THE LWLT:
Lake Wales Little Theatre has been providing high-quality, live entertainment to Lake Wales and East Polk County since 1978.
Our offerings include recent hits and old favorites, and we frequently offer new plays never before produced. Our intimate 140-seat theater ensures that everyone has a great view of the action!
The goal of Lake Wales Little Theatre, Inc. is to provide high quality theatrical entertainment and a creative outlet for the many interested and talented people in our area.
More specifically, the purpose of our theater is to provide cultural education and enjoyment for the citizens of Lake Wales and surrounding areas by producing, presenting, and viewing live theater activities.
Participation in theater activities on stage, backstage and in the audience is open to all interested individuals.