PCSO Deputies Arrest Winter Haven Woman for Aggravated Manslaughter in Death of her Newborn Baby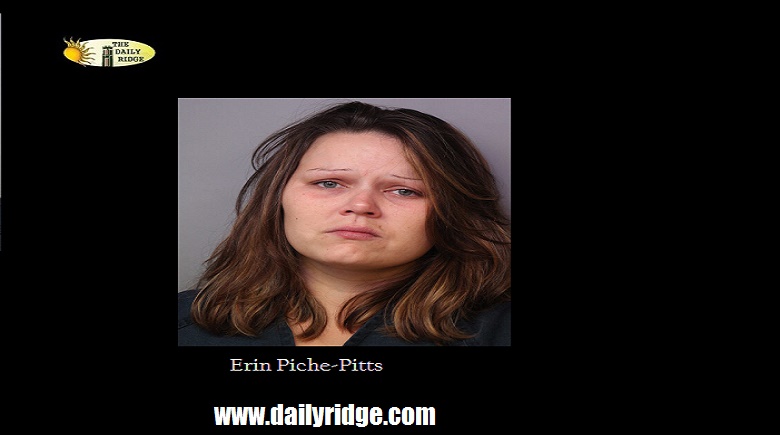 On Tuesday, December 20, 2016, PCSO Homicide Detectives arrested 25-year-old Erin Piche-Pitts of Kenwood Drive SE in Winter Haven and charged her with one count Aggravated Manslaughter of a Child (F-1) after her negligence caused the death of her newborn.
According to the affidavit, in August 2009 when Erin was six months pregnant, she had a face-to-face counseling with a Florida Department of Health employee, who through the "Healthy Starts" program, explained to Erin the dangers of sleeping in the same bed as your baby, and the importance of infants being placed on their backs to sleep. Erin gave birth to her first child, a baby girl, on November 21, 2009.
On December 4, 2009, Erin fell asleep in her bed while breastfeeding the baby. When Erin awoke, the baby was unresponsive, and pronounced deceased by medical personnel at the hospital. The baby's cause of death was ruled asphyxia "due to probable overlay and co-sleeping" and the manner of death was ruled an accident. The baby was 13 days old.
In March 2016, Erin was pregnant again, and attended another "Healthy Start" training program, and was again provided with counseling and information on the dangers of co-sleeping, and the safe way to put a baby to sleep. Erin's mother also had several conversations with her about being more cautious with this baby, due to the death of the baby born in 2009.
Erin gave birth to a baby boy on September 18, 2016. Prior to being released from the Winter Haven Women's Hospital, she was given more information about properly caring for her infant, including the dangers of co-sleeping.
On September 21, 2016, Erin took the baby for a routine newborn exam, and the baby's primary care physician, who was aware of the first baby's death, had a conversation with Erin ensuring she did not sleep in the same bed with the newborn. Erin assured the physician that she would not.
During the early morning hours of October 6, 2016, the baby woke up and began crying. Erin prepared a bottle of formula, took the baby from the bassinette located directly next to her bed, and propped the baby up with a pillow next her to her in her own bed, and placed his head in the crook of her arm. Erin then fell asleep. When she woke up approximately 2.5 hours later, the baby was unresponsive. He was pronounced deceased at Winter Haven Hospital. The baby was 18 days old.
Due to Erin having received repeated warnings on the dangers of co-sleeping, multiple face-to-face counseling sessions, and educational information given to her about the dangers of sleeping in the same bed with her baby, detectives determined probable cause existed to charge Erin with aggravated manslaughter of a child, due to the death of her baby through her own culpable negligence.
Erin Piche-Pitts (DOB 9/28/91) criminal history includes:
May 10, 2005 – Arrested by WHPD for Battery Domestic Violence
April 4, 2010 – Arrested by WHPD for Aggravated Battery
August 14, 2011 – Arrested by PCSO for Battery Domestic Violence
October 29, 2012 – Arrested by WHPD for Larceny
April 14, 2013 – Arrested by PCSO for Failure to Appear, VOP
November 21, 2013 – Arrested by WHPD for Battery Domestic Violence
February 9, 2014 – Arrested by PCSO for Burglary, Larceny
May 6, 2014 – Arrested by WHPD for Interference With Child Custody, Fraud
July 16, 2016 (while pregnant) – Arrested by PCSO for Possession of Meth, Paraphernalia