Lakeland, Florida – Polk County Sheriff's Office detectives are asking for the public's help in locating a wanted suspect. 43-year-old Brandi Michelle Sumner is wanted on 5 felony warrants and is a suspect in a recent Burglary and Grand Theft investigation.
Local home owner Cari Anne Baker explains below how she found out her package was stolen.
.@ImCariAnne talks about moment she found out she fell victim to a #PorchPirate. Needlees to say, she was not happy. More at 6 on @FOX13News pic.twitter.com/AtjS4VN6Vd

— Lucas Bogg (@LucasBoggPhotog) December 5, 2016
** We suggest you watch Fox 13 this evening at 6pm for more on this interview with Cari Ann Baker **
Baker put this post out on facebook this weekend and it was shared thousands of times:
#Lakeland I need your help! This woman stole a VERY expensive package off of our porch on Friday afternoon. Please look at her walk, her shirt, her hair, the car with the hubcap missing, all of it! If you know her please text me! I dont have messenger so if you don't have my number but you have Lances text him please. I'm on a mission to find her. One of the first things we learn as a child is not to steal! I would like to personally remind her. Lance works his a** off and I'll be damned if I just let some criminal take what he worked for. I hope you don't mind but I'm tagging everyone local to me that I can quickly think of. Thank you for helping me, I'll post a sunshiney something er rather after I catch her 🙂 Have a great day yall and God bless X
Ps. We did file a police report on Friday and I'm talking to all of the local stations at some point tomorrow. Thank you all so much for your help!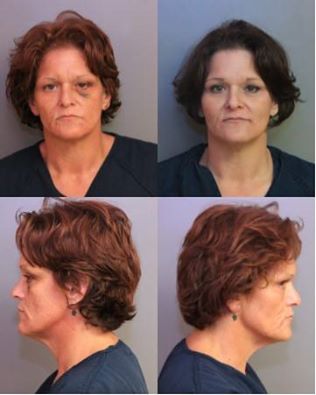 At approximately 3:40 pm, Sumner allegedly is seen on video taking packages from the porch of a residence in north Lakeland, on Thursday, December 1, 2016. She was seen driving a brown or tan four-door vehicle.
Sumner's outstanding warrants are for: 1) Felony Fraud – VOP Illegal Possession of Credit Card, Credit Card Fraud, Petit Theft, Grand Theft, 2 counts of Grand Theft of Motor Vehicle, and Felony Petit Theft, 2 or more previous arrests. 2) Felony Fraud – Failure to Appear for Weekend Work Release; Possess/Receive Stolen Credit Card; and Fraudulent use of Credit Card. 3) Felony Larceny, Failure to Appear for Weekend Work Release – Grand Theft of Motor Vehicle. 4) Felony Larceny- Failure to Appear for Weekend Work Release. 5) Felony Larceny- Failure to Appear for Weekend Work Release.
Sumner has two very distinct tattoos on her neck. Behind and just below both the left and right ear, Sumner has a blue tattooed star.
Anyone with information in Sumner's whereabouts is urged to contact the Polk County Sheriff's Office at 863.577.1600, or 863.298.6200.