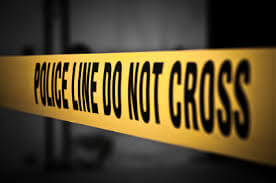 Update #2 : Strong words by Polk County Sheriff Grady Judd :
"We are confident that with the community's help, we will identify and arrest the coward who ran over a deputy and a young woman and left them both for dead, and then fled the scene. We will work day and night until this case is solved. And to the coward who did this – we advise you to turn yourself in, sooner rather than later." – Grady Judd, Sheriff
Heartland Crime Stoppers is offering a $3,000 reward for information leading to identity and arrest of the suspect responsible for killing 33-year-old Jessica Enchautegui-Otero of Tampa, and seriously injuring 25-year-old PCSO Deputy Sheriff Adam Pennell.
Update: Statement From Deputy Pennell Wife, Deputy Christin Pennell:
"Our prayers are with the family of Jessica Enchautegui-Otero, and we remain hopeful that with the public's help we will find the person responsible for killing her and severely injuring Adam. We appreciate everyone's support while Adam faces upcoming surgery for his injuries, and we ask for your privacy and your prayers. More than anything we hope the suspect is found. Please join us in keeping Jessica's family and loved ones in your prayers during this extremely difficult time." – Deputy Sheriff Christin Pennell
Adam was hired as a deputy sheriff in December 2013. Christin was hired as a clerical assistant in 2011, put herself through the law enforcement academy, and became a deputy sheriff in May 2014. She and Adam were married in March 2016.
Previous Release :
Lake Wales, Florida – At 12:40 a.m. this morning (Saturday, October 29th) 25-year-old Deputy Sheriff Adam Pennell, who is assigned to the Southeast District, was enroute to a call for service heading westbound on SR 60, between Tiger Lake and Sam Keen Roads, when he saw a citizen standing in the grass median of SR 60.
Deputy Pennell stopped his patrol car in the inside lane of SR 60, activated his emergency lights, and got out of the car to talk to the citizen. He learned the citizen had struck a tree and had injuries from the crash – the vehicle was off the roadway against the tree. The citizen had walked out onto SR 60 to flag someone down for help.
Deputy Pennell called for EMS to respond to the scene to treat the citizen, when an unknown vehicle heading westbound entered the median and struck them both, and then fled the scene.
According to Carrie Hortsman, Public Information Officer, "We do not have any information about the suspect vehicle. We are hopeful someone will have information about this. The vehicle will have front-end damage.
Deputy Pennell has a broken pelvis and other broken bones but should recover. The other person on the scene is deceased."
The deceased victim in this crash has been identified as 33-year-old Jessica Enchautegui-Otero of South Cameron Avenue in Tampa.
Deputy Sheriff Adam Pennell saw Ms. Enchautegui-Otero standing in the grass median when he stopped to talk to her.
Here is the timeline of events.
At 12:34 a.m. he told dispatch he was making contact with an unknown person
At 12:35 p.m. he called for EMS in reference to her injuries
At 12:37 a.m. he reclassified the call to a traffic crash (in reference to her car)
At 12:38 a.m. he made his last transmission updating dispatch with more information
At 12:45 a.m. EMS arrived and found D/S Pennell and Ms. Enchautegui-Otero with significant injuries
She was taken to Lake Wales Medical Center where she was declared deceased. D/S Pennell is at Lakeland Regional Health Medical Center with serious injuries.
Deputy Sheriff Pennell is married to another PCSO Deputy, Christin. His father is a retired PCSO Sergeant.
We are seeking the public's help to identify the suspect vehicle. It will have front-end damage.
If anyone has information about this incident they are urged to contact PCSO immediately at 863-298-6200.
TO remain anonymous call Heartland Crime Stoppers at 1-800-226-TIPS (0344). Anonymity is Guaranteed!