PCSO Detectives Charge Lakeland Man with Sexual Battery on Minor, Impregnating 14-Year-Old Girl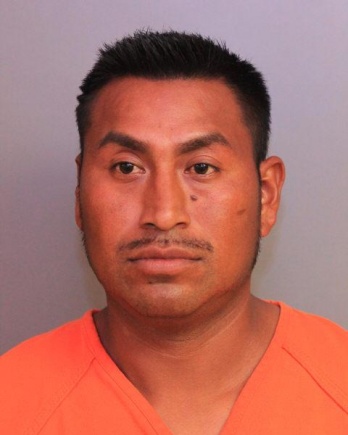 On September 1, 2016, PCSO Special Victims Unit detectives arrested
32-year-old Imeldo Cano (DOB 12/22/1982),
 of Pirates Way in Lakeland, for four counts Sexual Battery on a Minor Between 12-17 Years Old (F-1), and one count Person Over 21 Years Old Impregnating Child Under 16 Years Old (F-3), after Cano sexually molested and impregnated a 14-year-old girl with whom he had access.
The following is an excerpt from the affidavit, and is self-explanatory:
The suspect, Imeldo Cano (H/M 32yoa), did knowingly, intentionally and unlawfully violate FSS 794.011 (5c) Sexual Battery (4cts) by making the victim, REDACTED*,engage in sexual intercourse against her will. The suspect additionally violated FSS 827.04 (3) Contributing to the delinquency of a Minor by Impregnating (1ct), by impregnating the victim, who is 3 ½ months pregnant and reported the suspect is the only person with whom she has had sexual intercourse.

The victim was taken to her pediatrician by REDACTED, after experiencing abdominal pains. An ultrasound was conducted, which revealed the victim was 3 ½ months pregnant. The victim disclosed she was pregnant by the suspect, Imeldo Cano. The victim disclosed the suspect made her engage in sexual intercourse on four separate occasions since February 2015. The victim stated these incidents would take place in the suspect's bedroom, REDACTED. The victim stated the suspect would bring her in the room and lock the door so REDACTED did not see what was happening.

During a Post-Miranda interview, Cano confessed to engaging in sexual intercourse with the victim on four separate occasions since February of 2015. The suspect confessed he knew the victim was 13 years old at the time he first engaged in sexual intercourse with her. The suspect stated a couple times he did not use a condom, but the other two times he did use a condom. The suspect was asked if he felt it was right for him to have sex with a 14-year-old girl and stated, "No."
Cano has been booked into the Polk County Jail on the aforementioned charges, and will have a first appearance hearing at 1:00 p.m. this afternoon (September 2, 2016). He is being housed in the South County Jail. He has one prior arrest in Polk County, for driving without a valid license.
*Per Florida State Statute 119.071: (h)1. The following criminal intelligence information or criminal investigative information is confidential and exempt from s. 119.07(1) and s.24(a), Art. I of the State Constitution: b. Any information that may reveal the identity of a person who is a victim of any sexual offense, including a sexual offense proscribed in s. 787.06(3)(b), (d), (f), or (g), chapter 794, chapter 796, chapter 800, chapter 827, or chapter 847.