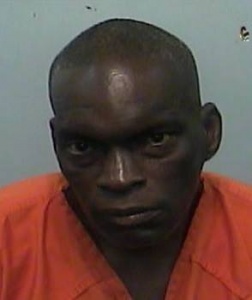 Winter Haven, Florida – Jury finds Polk County man who beat & robbed elderly woman guilty. On September 16, 2014 Winter Haven Police were called to Elonka's Fashions located at 130 Plaza Roadway in Winter Haven around 5 p.m. At the time a suspect (later positively identified on video as Perry Chance) entered the business which was currently being worked by 80 year old Carol Sleeth was working. Police  say the woman was attacked, beaten & robbed. Chance had dragged her to a back room where he beat her (breaking her neck) and demanded her keys.  He then tied the Sleeth up and gagged her.
After a long investigation canvasing other businesses for video and video inside the shop the suspect, Chance, was identified. Below is the details of the case. Chance will be sentenced on September 14, 2016.
Provided By The State Attorney's Office 10th Judicial Circuit
When Perry Lee Chance walked into the Winter Haven clothing store where 82-year-old Carol Sleeth was working, Sleeth had no way of knowing the same man would return four days later, rob her and beat her.
Chance, 55, faces life in prison after a jury found him guilty Thursday of burglary with an assault, robbery, kidnapping to facilitate a felony, aggravated battery and burglary.
Assistant State Attorney Steven Alamia showed the jury surveillance video of Chance walking into the store Sept. 16, 2014, where he took money out of the register and beat the victim with his fists. Chance tied her up, gagged her and left her in the store while he stole her keys out of her purse and drove off in her car.
In addition to the video, the 911 call was played.
Sleeth called police after she broke free from her bonds and removed the gag from her mouth. She told law enforcement how Chance kept "beating and beating" her and how she was "bleeding all over."
"There's really no dispute about what happened – that she was robbed, that she was beat, that she bled a horrific amount," Alamia told jurors during his closing statement on Thursday. "You could hear on the 911 call how distraught she was."
The victim identified Chance as her attacker shortly after the incident. She had a stroke about a year later, which led to her death.
Law enforcement began tracking Chance's cell phone and located him driving up Interstate-75 in the victim's vehicle. When officers stopped the car, they found the phone they'd been tracking, the backpack Chance wore in the surveillance video and – laid out on the seat – the shirt and shorts that he was wearing.
"It ties it all together," Alamia said. "He's found in her car … what's found in the car puts him in that video."
But Alamia said one of the most significant facts of the case was that Chance's cell phone pings within a mile of the store at the time of the crime.
"All the evidence points to the defendant," Alamia said. "Not only is it undisputed that all of these crimes happened: this defendant beat her, he robbed her, he tied her up and stuffed something in her mouth."
"He's the one who did all that, and the state has proven it beyond a reasonable doubt," he said.
It only took the jury an hour and a half to come back with a guilty verdict. Chance will be sentenced on Sept. 14.