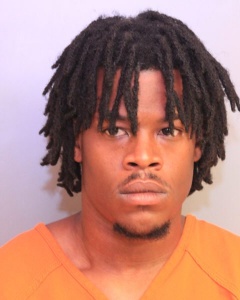 Davenport, Florida – According to an arrest affidavit the suspect, Gwinson Clerger 22 of Winter Garden, is accused of sexual assault, indecent exposure, public masturbation & false imprisonment. The incident took place in the early morning hours of July 31, 2016 at an apartment complex in Davenport.  According to reports deputies were called to the apartment complex due a sexual assault. They would eventually find out that Clerger is accused of sexually assaulting a woman in the apartment complex. During the investigation it was determined that Clerger and the woman had went out the night before with friends to Orlando. The victim advised Clerger may have drugged her, prior to the repeated sexual assault.
When deputies arrived at the apartment complex they found Clerger in the pond behind the apartment complex. Clerger was allegedly wearing a blue dress, belonging to the sexual assault victim. Three witnesses also saw Clerger in the pond behind their residence. According to one resident, who was on her back porch, Clerger allegedly yelled to her "Hey you white bxxxx look" and then he proceeded to masturbate in front of her.  According to the report when deputies confronted Clerger coming out of the pond he immediately stated "She wanted me to treat her like a dog and when I did she didn't like it".  Clerger also allegedly told deputies at this time "Do you mind if I stick my finger up my axx". Clerger was taken into custody and arrested at this time.
It would be later learned through the investigation that the victim accused Clerger of assaulting her sexually multiple times in a very lewd manner. Clerger denies that he assaulted her and that it was consensual.  He did advise that he was under the influence of a drug called "molly", better known as ecstasy. Clerger advised that the group was taking "Molly" during their time in Orlando. The victim however advises that she never took the drug unless it was slipped into the multiple mixed drinks the victim gave her.
Clerger was transported to Heart of Florida Hospital prior to going to Polk County Jail. Clerger's bond was set $13,500.
Warning: The additional details of this case are very disturbing. We are attaching a screen shot of the arrest affidavit, but warn you it is verbally graphic.