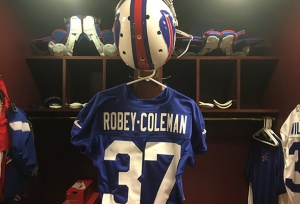 Frostproof, Florida – Frosproof Native & Buffalo Bills cornerback leading by example. You won't hear his name for some crazy off the field incident. You will hear it associated with great athlete, business man & philanthropist.
The back of the No. 37 Buffalo Bills jersey looks a bit different this year. There's a new name, but the number still belongs to the same player. Nickell Robey is now Nickell Robey-Coleman – a change he made to honor his late mother, Maxine.
Robey-Coleman filed the paperwork to change his name in his home state of Florida back in May.
"It was a neat moment. It was a historic moment for me," Robey-Coleman said of seeing his new jersey for the first time. "This name is going to go on through my whole NFL career. It's going to carry on to my kids, whether I have sons or daughters. Maybe they'll play in the NFL, or they'll go to college and compete there. I wanted to make it their name now."
Robey's mother died in 2010 at the age of 44 after suffering a massive heart attack. Shortly before she passed away, Robey-Coleman committed to the University of Southern California. After her death, he vowed to one day make it to the NFL and always make her proud.
"That makes me go," Robey-Coleman told The Buffalo News last year, speaking in depth about the impact the passing of his mother had on him. "I know if she was living, she'd be appreciating everything that I'm doing and pushing me through it. This is all for her. My whole game, the way I play, is all for her. I know she's watching."
Adding Maxine's last name is another way to guarantee her legacy is never forgotten.
"It's a bloodline thing," Robey-Coleman said.
After Maxine's death, Robey-Coleman's father, Earl, eventually remarried. His new wife took the Robey last name, and people began asking Robey-Coleman if Earl's new wife was his mother. He wanted to clear up any confusion.
"Basically, it was just like thinking of the future, thinking about my kids, thinking about my family lineage down the line," Robey-Coleman said. "It pretty much came from my dad's side. He had got remarried. I wanted my mom's name to remember her for my future. My dad and his situation had happened and so I just made my decision of putting my mom's name on the back of my jersey, in remembrance of her."
Maxine Coleman would have plenty to be proud of. Robey-Coleman is entering the fourth season of his professional career as a former undrafted free agent. That's an accomplishment on its own – but one that's even more impressive considering Robey-Coleman is just 5-foot-7 and 165 pounds – measurements that make him the smallest player on the team.
In his first three seasons, he's played in all 48 games with 13 starts, making 132 tackles, 21 passes defended, five sacks and one interception that he returned for a touchdown. Last year could be considered a down season for Robey-Coleman, though, as he finished with just four passes defended – the fewest of his first three years.
"There were some things I wanted to do better," he admitted after Friday's practice at St. John Fisher College. "I wanted to make bigger plays, I wanted to make more plays, actually. That didn't really happen. I'm trying to come out here and every opportunity I get, just make a play on the ball. Last year I feel like I could have done more."
Robey-Coleman said Year Two in coach Rex Ryan's scheme has him feeling "way more comfortable." As the nickel cornerback, he'll play an important part for the defense. Even though he only started three games last season, Robey-Coleman played 62 percent of the defensive snaps.
"I've been very impressed with him," Ryan said. "I've had the officials just gluing all over him. I say study our nickel – make sure he's not holding. … I don't think he's gotten a penalty all camp.
"That's something, because I want him to understand, you don't have to grab anybody. He's got quickness. He's got all that and I think he's doing a good job."
Last year, Robey-Coleman took a pair of critical pass-interference penalties in losses to Jacksonville and Kansas City. Even though both calls were highly questionable – the league actually admitted to errors after the fact on both plays – the damage was done.
Robey-Coleman said his focus in camp has been improving his technique, to avoid putting himself in those situations.
"I'm feeling good," he said. "I'm having fun out there. Every time I step on the field, I just want to make the most of my opportunity."
He'll also be honoring his mom every time he does.