PCSO Detectives Arrest Former Kathleen High Booster Club President for Fraud, Grand Theft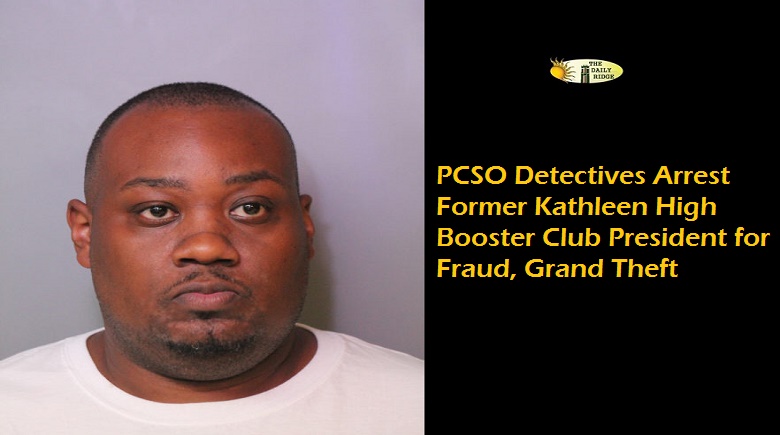 Sheriff Judd will brief media on arrest of Aaron Wilborn live on YouTube https://t.co/gt5kGXUqhk

— Polk County Sheriff (@PolkCoSheriff) July 27, 2016
On Tuesday, July 26, 2016, PCSO Fraud Detectives arrested 33-year-old Aaron Wilborn of 1601 Warren Street East in Plant City and charged him with one count Scheming to Defraud (F-3), and one count Grand Theft (F-3), after investigation revealed that from 2014 to 2015, when he was the volunteer President of the Kathleen High School Athletic Booster Club, he used the club debit/credit card to spend over $9,800 for personal reasons. Wilborn is employed by Merlin Entertainment in Orlando.
It is unclear when Wilborn began serving on the board as President, but prior to June 29, 2015, Wilborn was asked to step down from the board by the other board members, who suspected he was misusing the funds. He has not been a board member since then. The board members then contacted the Polk County School Board and ask them to conduct an audit. In turn, PCSB contacted PCSO to investigate.
The following is an excerpt from the affidavit, and is self-explanatory:
Between 07/01/2014 and 06/29/2015, Aaron Wilborn unlawfully used the Kathleen High School (KHS) Athletic Booster Club's (victim) debit/credit card for 334 fuel, food, and personal transactions. Two years of bank statements, Booster Club requisition forms, and deposit forms confirm a monetary loss of $9,847.74. These transactions included fast food purchases, movie tickets, fuel purchases, rental cars, entertainment activity in Orlando and Tampa, and payments on Wilborn's personal bills.
Interviews with various school employees and volunteers revealed that the normal procedure for Booster Club account transactions is for employees and volunteers to submit a written requisition for reimbursement, along with a receipt to justify a purchase or the requisition request would be completed prior to an expense. The majority of requisition forms completed by authorized volunteers and KHS employees were for trophies, uniforms, and other supplies related to athletics. A few were for food and fuel but with the corresponding receipts and an explanation attached. None of the requisition forms were completed by Wilborn. The documented high school athletic team food purchases were for amounts in excess of $50.00 that would be considered average for a team as opposed to Wilborn's purchases, often less than $15.00 per transaction as listed on the bank statements.
Aaron Wilborn is not an employee of the school. He was a volunteer President with the Kathleen High School Athletic Booster Club and had access to the Booster Club credit/debit card.
During a non-custodial interview with Wilborn, he admitted to using the Booster Club credit/debit card to pay his Sprint bills, his Geico insurance bill, personal fuel purchases, movie theater purchases, and food purchases. However he stated he thought he was owed the payments since he was using his personal car and using his phone for Booster Club activities. Wilborn said he often paid for food and movies for some of the students. I was informed by the Booster Club Treasurer and Kathleen High School employees that at no time was Wilborn permitted or advised to take students off-campus for food or entertainment.
During the aforementioned time frame:
Wilborn engaged in 85 food transactions for a total of $896.73.
Wilborn unlawfully used the Booster Club debit/credit card to pay $3,415.31 in unauthorized personal fuel purchases.
Wilborn unlawfully used the Booster Club debit/credit card to pay his personal Sprint telephone bill for 12 months for a total of $1,107.00.
He used the credit/debit card to pay for his personal Geico insurance in the amount of $87.86
He used the credit/debit card at a tire company for $87.00.
Wilborn used the credit/debit card to pay for movie rentals and theater visits on 20 occasions for a total of $143.16.
Wilborn unlawfully used the Booster Club credit/debit card for clothing purchases at Burlington and Journeys in Lakeland and for entertainment activities such as at Fun Spot in Orlando and at Airheads Trampoline in Tampa for a total amount of $185.36.
Wilborn used the card for ATM services at various financial institutions. The total for the ATM withdrawals, associated fees, and chargeback fees for the account being overdrawn is $2,628.99.
Wilborn used the card for hotel stays and rental cars for a total of $1,237.82.
The card was also unlawfully used for miscellaneous purchases such as at Tampa Travel Center in Seffner and for vending machine purchases in Orlando/Altamonte Springs for a total of $58.51.
Due to Wilborn's illegal actions of unlawfully using the Booster Club credit/debit card as his own for more than 300 transactions, Kathleen High School has sustained a monetary loss of $9,847.74.
Wilborn was placed under arrest without incident and transported to the Polk County Jail.