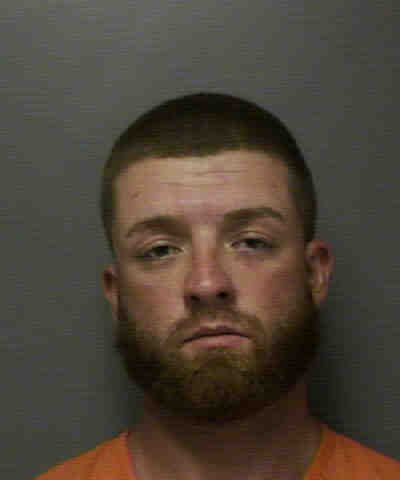 Winter Haven, Florida – The Polk County Sheriff's Office was called on July 3, 2016 to the Racetrac Gas Station on Hwy 17 in Eagle Lake regarding an assault. According to reports the female victim pulled into the gas station after she was allegedly hit in the arm by  Eric Duffey (DOB: 12/22/1990). Duffey and the victim reportedly have been residing, at a home on Lake Ruby Dr. in Winter Haven,  as family unit for the past year. The victim reportedly pretended to be purchasing gas, but went inside to the bathroom to call the Duffey's mother.   Duffey allegedly went into the ladies room of the gas station and placed both hands around the victims neck, impeding her breathing. The victim who is 6 months pregnant could not breath. Duffey then allegedly took the victims car keys and fled the gas station.
While deputies were at the gas station Duffey allegedly was spotted at the intersection of SR 540 & Hwy 17. Deputies pursued the vehicle with lights and sirens along several roads until Duffey lost control on Eloise Loop Rd. Duffey allegedly spun out and then corrected to face oncoming deputies. Deputies moved to block the path of Duffey, but he continued towards the deputies vehicles. In fear of their lives the deputies moved out of Duffey's way and he continued to flee. According to reports Duffey drove recklessly down multiple roads, Snively Rd., Bomber Rd., Rifle Range Rd. 7th Street West, at which time deputies,  fearing for the safety of others, discontinued the active pursuit. Deputies looked for Duffey, but could not locate him at the time. Shortly afterwards Duffey abandoned the vehicle at the intersection of 16th Street West and Avenue A West.
Deputies arrested Duffey at his Lake Ruby Drive residence on July 4th without incident. Duffey has been charged with Aggravated Battery Offender Knew Victim Was Pregnant, Domestic Violence Battery by Strangulation, Fleeing To Elude Law Enforcement Officer with Lights & Sirens Activated and Aggravated Assault On A Law Enforcement Officer.