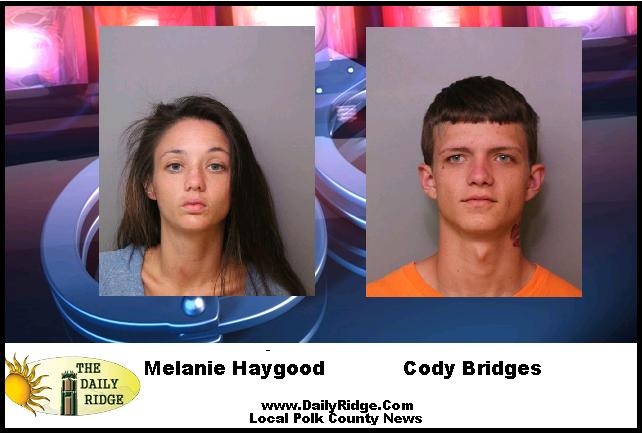 Lakeland, Florida – On 07/01/2016 a Polk County Sheriff's Deputy  responded to a residence on Lunn Woods Way, Lakeland, in an attempt to locate Cody Bridges, DOB 10/28/1996, who has a felony warrant for stolen vehicle out of Hillsborough County Florida. When the deputy arrived at the residence he observed the vehicle Bridges was last known driving, a 2016 white Ford Fusion. The deputy backed his vehicle away from the residence and called, via radio, for backup. As he was waiting for other units to arrive he observed the white Ford Fusion driving towards his location. The deputy activated his lights on his marked patrol car in an attempt to conduct a traffic stop. As soon as he activated his emergency lights the Ford Fusion allegedly gained speed towards the patrol car. The deputy positioned his vehicle diagonally in the roadway in an attempt to block the vehicle from fleeing. As the Ford Fusion approached the deputies vehicle the Ford Fusion went off the road into soft ground and began to "fishtail". The driver of the Ford Fusion then allegedly intentionally struck the front of the deputies marked patrol car. The push bar on the vehicle caught the back bumper of the Ford Fusion and pulled the patrol car into a ditch. The Ford Fusion then continued to flee. As the Ford Fusion fled the deputy recognized the driver to be Melanie Haygood, DOB: 5/20/1992. The deputy knew Haygood in the past and have been actively looking for her as well due to her having a court ordered pickup order for a Marchman Act ( is a means of providing an individual in need of substance abuse services with emergency services and temporary detention for substance abuse evaluation and treatment when required, either on a voluntary or involuntary basis). Haygood & Barnes continued to flee deputies into Hillsborough County via Pipkin Rd. and eventually Hwy 92.  During this time several deputies in marked cruisers allegedly tried to provide a traffic stop with flashing lights and sirens.
As the vehicle came to the intersection of Hwy 92 and Park Rd N. in Plant City, Hillsborough County, the Ford Fusion attempted to make a right turn onto Park Rd N. from Hwy 92 and lost control. The Ford Fusion went into the southbound lanes as it was turning North. As the driver began to correct the vehicle deputies successfully stopped the Ford Fusion using the Precision Immobilization Technique (PIT). At this point the driver of the Ford Fusion, later confirmed to be Melanie Haygood, and the passenger of the Ford Fusion, later positively identified as Cody Bridges, got out of the Ford Fusion though the driver's door and began fleeing on foot. At this time a deputy gave aloud verbal commands to stop running or he would deploy his K-9 partner, Gauge. Both subjects continued to run and K-9 Gauge was deployed. Cody Bridges was apprehended by K-9 Gauge. Melanie Haygood was apprehended shortly after by additional deputies that arrived on scene.
According to an arrest affidavit, during an inventory of the Ford Fusion in preparation to tow it, a makeup bag with two baggies of methamphetamine, two used needles which tested positive for methamphetamine, three containers which tested positive for methamphetamine, a baggie of suspected synthetic marijuana, a scale which tested positive for methamphetamine, a spoon which tested positive for methamphetamine, allegedly. In the center console, deputies also allegedly found a small black bag and inside the bag two .40 caliber Speer Gold Dot rounds of ammunition were located. Due to Melanie Haygood being a convicted felon she was charged with possession of ammunition by a convicted felon. Melanie Haygood was convicted of grand theft of a firearm in Polk County FL on 01/11/2011 and was also convicted of Grand theft over $300 less than $500 in Polk County FL on 11/2/2010. According to the arrest affidavit the center console of the Ford Fusion contained two credit cards and a Florida Driver's License were located. The Driver's License and one of the credit cards were taken during a burglary of a conveyance at a location on S. Florida Ave in Lakeland in which Cody Bridges is a suspect based on PCSO investigation 2016-27805 (LPD case number 16-12302).  In the trunk of the vehicle were multiple bags of miscellaneous tools which could have been used in commission of multiple burglaries Melanie Haygood and Cody Bridges are suspects in.
Haygood has been charged with Flee Elude LEO at High Speed,  Grand Theft – Motor Vehicle, Agg Battery on Law Enforcement Officer, Possession of Ammunition by Convicted Felon, Burglary-UnOccupied Conveyance UnArmed, Resist Officer without Violence, Possession of Methamphetamine. Bridges has been charged with Resist Officer with out Violence,  Grand Theft – Motor Vehicle, Burglary-UnOccupied Conveyance UnArmed, Illegal Use of Credit Cards Obtain/Possession, Warrant Arrest Other Jurisdiction Hillsborough County, Possession of Burglary Tools With Intent To Use.
Both Haygood & Bridges remain in Polk County Jail.