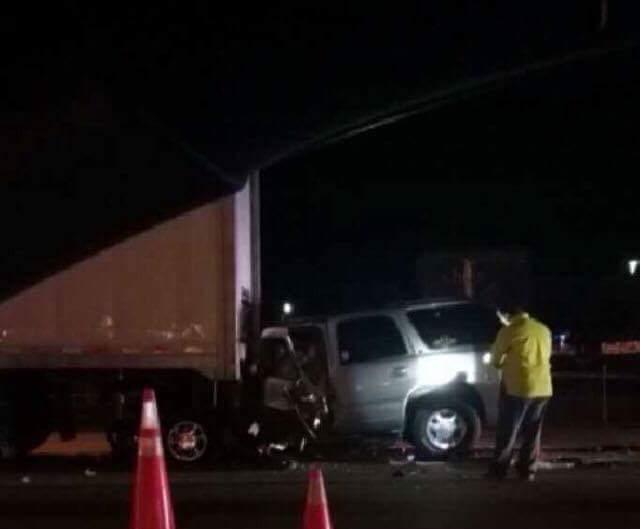 Auburndale, Florida – On Saturday, July 3, 2016, at approximately 12:55 a.m., Auburndale Police officers were dispatched to a traffic crash at the intersection of US Highway 92 West and Neptune Road. Officers arrived a few minutes later to find that a beige 2001 GMC Yukon had crashed into the rear of a 2014 International tractor-trailer semi that was stopped at the traffic light facing eastbound. The Yukon struck the rear of the trailer with enough force to damage the rear under-ride equipment, ending up with the entire hood portion beneath the trailer and causing the front portion of the windshield to strike the rear deck and doors of the trailer.
The Yukon was driven by Jesus Torres Chavez, H/M, 06/18/1975, of 704 New Hope Street, Auburndale, and was occupied by passengers Martin M. Duran, H/M, 01/29/1963, 147 Palmetto Ridge Drive, Winter Haven, and Santiago Velasquez, H/M, 07/25/1974, 3094 Avenue T NW, Winter Haven.
The driver of the semi was Hector M. Rodriguez-Viera, H/M, of Orlando.
All three of the occupants of the Yukon had to be extricated from the vehicle by members of the Auburndale Fire Department. They were transported to Lakeland Regional Health Medical Center for treatment. Mr. Chavez was treated and later released. Mr. Duran received severe injuries and is still hospitalized and Mr. Velasquez also was seriously injured and is hospitalized.
Auburndale Police Department Traffic Homicide investigators were summoned to assume the investigation due to the seriousness of the injuries. This crash may be alcohol-related and this investigation is ongoing.
We will provide updates as they become available.