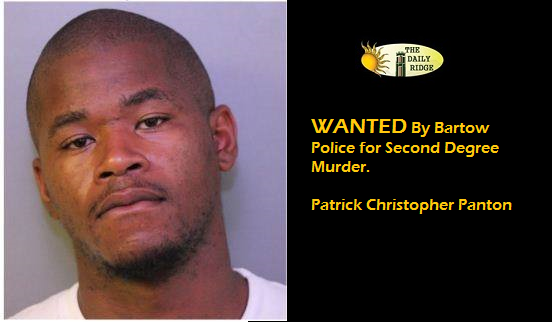 Update: 1:30pm- Homicide suspect PATRICK CHRISTOPHER PANTON 05/15/1994  was taken into custody without incident, a short time ago by the Orlando Police Dept. Working in cooperation with other law enforcement agencies in central Florida, PANTON was located in Orlando based upon an anonymous tip to law enforcement.
Attention: The Bartow Police Department is currently looking for Patrick Christopher Panton, 21 years of age. Panton is wanted for Second Degree Murder and Possession of a Firearm by a Convicted Felon. His photograph is attached. He is considered armed and dangerous.
Synoposis of events: At around 8:16 PM on 6/18/16, officers with the Bartow Police Department responded to the Azalea Gardens apartment complex in reference to a shooting. Upon arrival, officers located 27 year old Emily Tensley on the floor of a breezeway in the apartment complex. The victim (Tensley) was later pronounced deceased at Bartow Regional Medical Center as a result of a gunshot wound to her abdomen.
It was later revealed that Panton and Tensley were previously dating. The investigation further revealed that Panton and Tensley became involved in an altercation and during that altercation, Panton shot Tensley.
This investigation is ongoing and detectives ask that anyone with information, including Panton's whereabouts, please call the Bartow Police Department at 863-534-5034. Those wishing to remain anonymous may also call Crimestoppers at 800-226-TIPS (8477). Thank you all for your help!