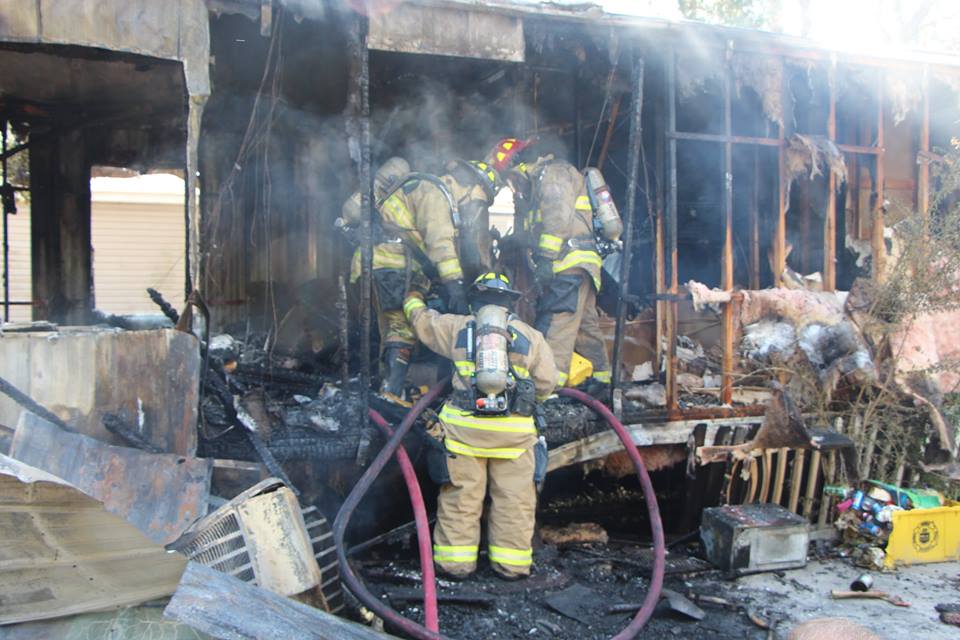 Bartow, Florida – Just before 4 p.m. Monday, Polk County Fire Rescue and local fire department crews responded to a mobile home fire at 4806 Mark Way, Bartow,  the home of Jesus Garcia & his family. When crews arrived, the home was fully involved.
A resident at the home told Polk County Fire Rescue crews that she smelled something burning, therefore she began turning off electronics, fans and other items throughout the house. The smell didn't go away so she decided to take her granddaughter next door. When she returned to the house she heard a loud pop and a cloud of smoke followed.
There were two people at home when the fire started, one adult female and a child; however, four people lived in the mobile home. No one was injured, but a dog inside the home died. A mobile home next to it sustained minor damage to its siding.
The State Fire Marshal was called to investigate the cause of the fire.
Friends are trying to help the family. "Garcia is a working man that goes to work everyday to support his family which includes his wife , his daughter and his granddaughter which is only 2 yrs old. " said a co-worker. They are in the need of all essentials from the smallest of things such as soap , shampoo and even toothbrushes. Friends  asking for any type of donations that can be dropped off at his place of employment (Roofing Supply Group) 3595 Recker Hwy Winter Haven, Florida. Tony Elliott the branch manager is handling donations his contact number is 863-293- 1555. If you may have cloths or future furniture or even want to help supply the family with dinner it would be appreciated.
"This is so disheartening for this family who works extremely hard everyday to lose everything they own in a blink of an eye . Is there anyway you would or could pass this info on. This family has not asked for any help but we are trying to reach as many as possible to let them know we all care." said a co-worker.