One Girl Was Born with a Heart Defect. The Other Had a Sister with a Heart Defect. They Both Won Scholarships to Pursue Careers in Heart Health
by James Coulter
Aubrey Warren, a graduating senior from Bartow Senior High School, has a young sister named Bailey who was born with an atrioventricular septal defect. Her heart defect required her to receive open heart surgery at only four months old.
Desiring to assist other children the way her sister was helped, Aubrey dreams of becoming a pediatric cardiologist. She will now have the opportunity to follow her dream now that she received a $1,000 scholarship from the Cardiac Culpepper Foundation.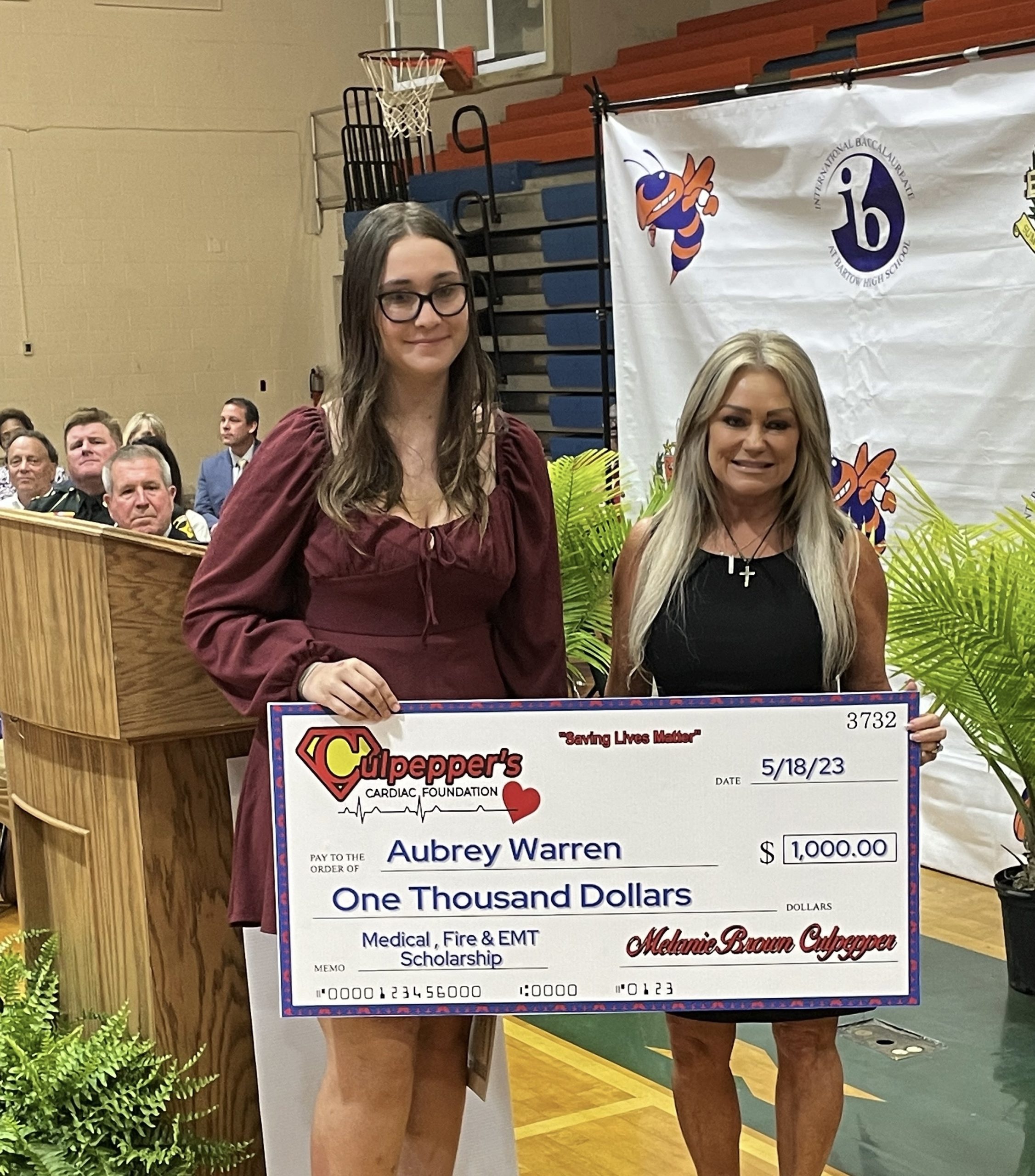 Aubrey was one of several dozen graduating seniors from Bartow High who was presented a scholarship during a special ceremony hosted on Tuesday evening. She was also one of two students who received a $1,000 scholarship from the Culpepper Cardiac Foundation, a local non-profit organization dedicated to promoting heart health.
"I feel honored receiving this scholarship," Warren said. "It means a lot to me. Cardiology is something near and dear to me. I have a sister born with a heart defect. I have been inspired by that…I plan to become a pediatric cardiologist. I wanted to be one ever since I was seven or eight. I am glad to achieve this dream."
Kyleena Mullis was born with hypoplastic right heart syndrome. Having survived being born with a heart defect, she wants to attend college to study cardiac sonography so she can help children born with heart defects.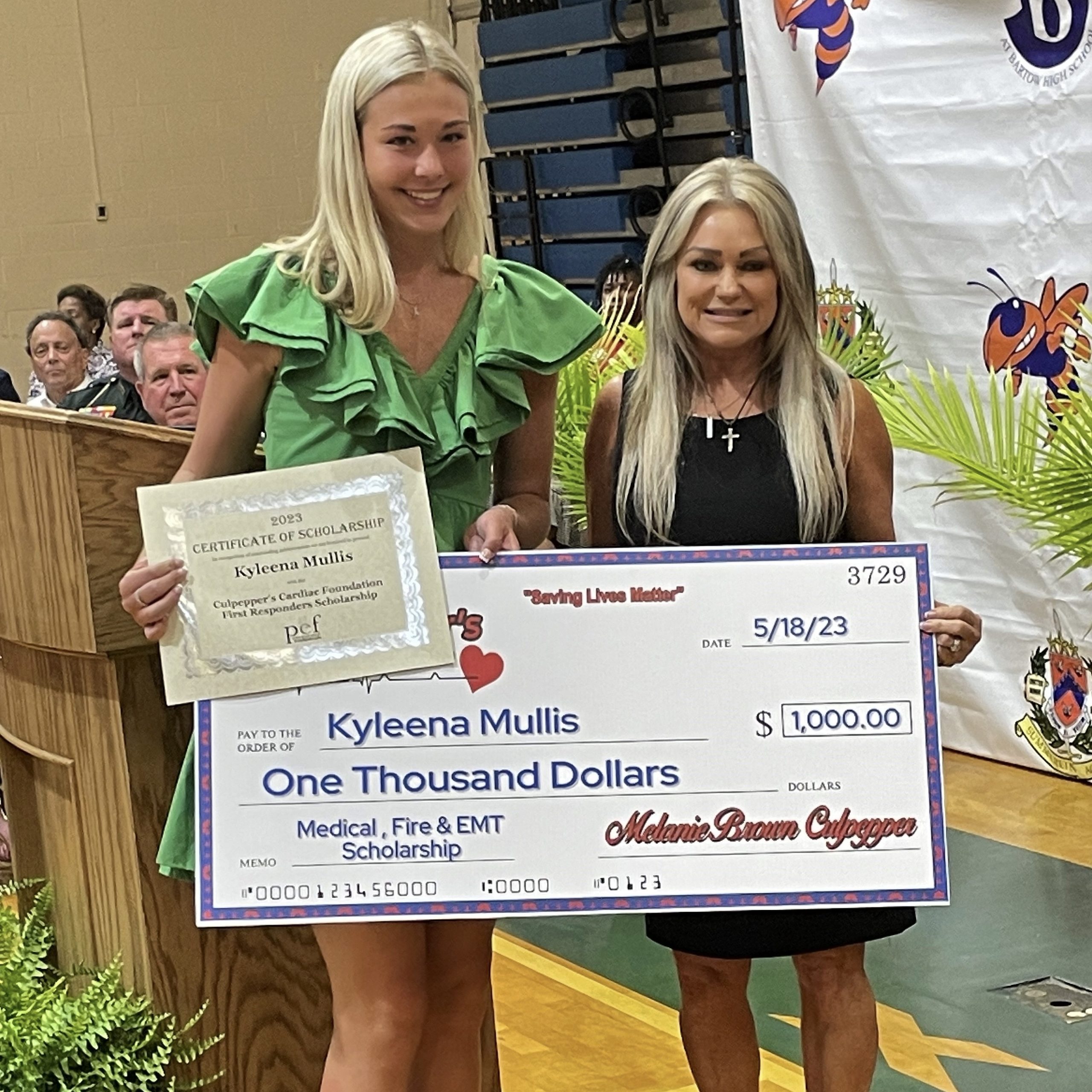 "It means a lot to win this scholarship," she said. "I am a cardiac kid. So I want to share my story with people and do what I can [to help others like me]."
Kyleena will be attending Polk State College with plans to transfer to a university in San Fransisco. Auburey will be attending the University of South Florida in University of South Florida.
Both girls were presented scholarships by Melanie Brown Culpepper, founder of the Culpepper Cardiac Foundation. She started her organization two years ago following the tragic passing of her late fiancée, Michael Culpepper, from cardiac arrest.
Her organization has raised proceeds to donate nearly a dozen automated external defibrillators (AEDs) to businesses across the county. She has also conferred scholarships to students pursuing careers as firefighters and EMTs. She also recently conferred one scholarship to a student at Lake Wales High School.
Being able to award two scholarships at Bartow High School proved nostalgic for her. She had not stepped foot into that school since she graduated 35 years ago in 1988. As for the scholarship recipients, she was inspired by their personal stories.
"I like their stories about cardiology that both of them [had]," she said. "One was pediatric, and the other had an incident when they were young. They were both inspiring."
Melanie will be donating two AEDs next month. One will be at Lake Wales Ball Park. The other will be at Eagle Lake Ball Park. For more information about upcoming events, visit their website at: https://honoringculpepper.com/