Local State of Emergency Declared to Address Missed Waste Collection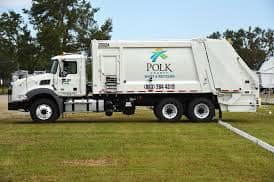 Bartow, Fla. (Feb. 15, 2022) — The Polk County Board of County Commissioners declared a local state of emergency Tuesday following the ongoing missed residential waste collection within unincorporated Polk.
The missed collections, which persist in the county,endanger the public health, safety and welfare of Polk residents.. The declaration, which has been used before in local emergency situations, provides the county manager the tools to be able to respond to the emergency and remove certain procurement procedures that could prolong immediate solutions.
The declaration approved by a unanimous vote Tuesday allows the county manager to take the following actions:
Utilize all available resources of the county government as reasonably necessary to cope with the emergency;
Make provisions for the availability and use of temporary emergency housing and the emergency warehousing of materials;
Acquire merchandise, equipment, vehicles, or property needed to alleviate the emergency.
Through this, the county also waives the procedures and formalities normally required by law to:
Performance of public work and taking whatever prudent action is necessary to ensure the health, safety and welfare of the community;
Entering into contracts;
Incurring obligations;
Employment of temporary or permanent workers;
Rental equipment;
Acquisition and distribution, with or without compensation, of supplies, materials and facilities;
Appropriation and expenditure of public funds
More information regarding the county's trash collection problem- Polk Waste Removal Issues