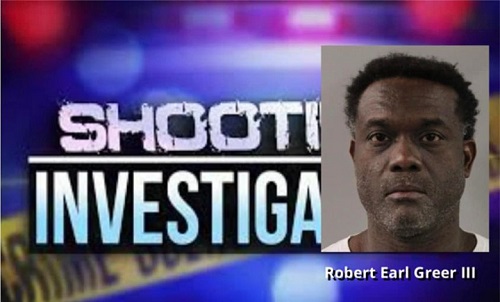 Haines City, Florida- The Haines City Police Department is currently investigating a shooting which occurred in front of a Polk County Fire Rescue station in Haines City. The shooting suspect is in custody. The name of the suspect is Robert Earl Greer III.
The following is a long exerpt from the Haines City Police Department affidavit and specifically (It should be noted that this is an unedited report of facts by the Haines City Police Department. These facts are up for question and everyone is entitled to question the validity of facts by law enforcement in a court of law. The Daily Ridge does not rewrite these facts as some meanings or interpretations could be in error and change context. We hope readers appreciate being able to read the information and come to their own understanding and conclusions) :
Note we have two sets of victims. The first REDACTED/VICTIM is the person directly shot at by suspect. The REDACTED/PCFR VICTIMS that were at the EMS station. Remember as victims their identity and location is protected by Marsy's Law.
"On Wednesday, February 2, 2022, at approximately 1937 hours, REDACTED/PCFR VICTIM(S) contacted the Polk County Emergency Communications
Center (ECC), in reference to a shooting in front of ADDRESS REDACTED, Haines City police officers were dispatched and arrived within minutes to find several spent shell casings in the roadway. The Emergency Medical Services personnel were able to provide a description of the vehicle and its direction of travel. No County personnel or
equipment was affected.
While attempting to gather information, the Emergency Communications Center (ECC) received a call from REDACTED/VICTIM indicating he was shot at. Officers responded to 10th Street and Avenue E, where contact was made with REDACTED/VICTIM.
Officers maintained the crime scenes until detectives arrived. At approximately 2037 hours, I, Detective Stoudemire arrived on scene and assumed the investigation. Upon arrival I was briefed and proceeded to contact REDACTED/PCFR VICTIM(S) who advised they were REDACTED
when they heard multiple shots fired.
REDACTED/PCFR VICTIM advised she looked outside the door of the garage to see what was going on, and observed the driver of a black vehicle fire three rounds. REDACTED/PCFR VICTIM advised she was unaware of what or who he may have fired at because she immediately ran for cover.
Detective Turner later responded to the scene proceeded to 10th and Avenue E where contact was
made with the REDACTED/VICTIM was observed near the intersection. Crime scene tape was placed around the victim's vehicle and officers secured the integrity of the scene. An inspection of REDACTED/VICTIM's vehicle, a REDACTED, was conducted. The inspection revealed what appeared to be a single gunshot to the front left quarter panel. Contact was made with REDACTED/VICTIM who agreed to be interviewed. Via a sworn recorded statement REDACTED/VICTIM said the folowing:
He was travelling on Hinson Avenue in congested traffic. Due to the trattic, he turned onto 9th Street and drove north. The vehicle in front of him began to drive erratically and began to slam on the brakes.
REDACTED/VICTIM started as the vehicles continue north towards Lily Avenue, the black Toyota Camry in front of him continued to slam on
the brakes. REDACTED/VICTIM stated he attempted to go around the vehicle, but could not due to the driver's erratic behavior. While at the intersection of 9th street and Lily Avenue, the driver of the Camry exited the vehicle told me he recognized the driver to Robert Earl Greer III, whom he has known most of his life. REDACTED/VICTIM told me he asked Greer III if he was okay and indicated he did not want any problems. REDACTED/VICTIM
stated Greer III stated, "I'm going through something today." REDACTED/VICTIM stated he did not exit his vehicle and both vehicles
continued onto Lily Avenue and stopped near 10th street. REDACTED/VICTIM revealed that he and Greer exited their vehicles where words were exchanged. At some point during the exchange, it became physical with both men fighting.
stated he "got the best of Greer III." As Greer III proceeded to his vehicle, REDACTED/VICTIM recalled Greer III stating; "You gone die tonight." REDACTED/VICTIM advised he continued to his home and didn't think much of it. REDACTED/VICTIM told me he drove to Publix on Hinson Avenue sometime later to pick up dinner. While en route back to his home, he observed the black Camry and followed the vehicle in an attempt to canture the tag number. REDACTED/VICTIM
followed Greer III east on Hinson Avenue, where both vehicles proceeded south on 10th Street. REDACTED/VICTIM stated Greer III turned onto ADDRESS REDACTED and drove west. While following the vehicle, Greer III completed a U-turn. As Greer III's vehicle was next to his, Greer III fired a shot at his vehicle. REDACTED/VICTIM stated he continued west and observed Greer III stop near the EMS station. REDACTED/VICTIM stated Greer III exit the vehicle and fired another 5 rounds towards his car.
The information provided by REDACTED/VICTIM
was consistent with the casings located at the scene and with the information provided by EMS personnel. Due to intimate knowledge of Greer III, deputies proceeded to Greer's listed address in Dundee, Florida. Greer III was not located however, his parents were. No information his whereabout was readily available. Later during this investigation, Greer III's mother contacted the
Polk County Sheriff's Office advising Greer III turned himself into the Osceola County Sheriff's Office. Contact was made with Sergeant Frias of the Osceola County Sheriff's Office and learned Greer III was being detained. During his detention in Osceola County, it was learned that the vehicle involved in this incident was left at REDACTED ADDRESS.

A criminal history check revealed Greer III has prior felony convictions for Attempt Throw Shoot into building (02/19/2019) and Possession of Controlled Substance (10/02/2019).
Based on the information provided during this investigation, your affiant finds probable cause to charge Robert Earl Greer III, in violation of Florida State Statutes 784.021(1(A).. – Aggravated Assault Deadly w/o Intent to Kill, 790.19. – Shoot into an Occupied Vehicle, 790.15(2) -Discharge Firearm from Vehicle and 790.23(1)(A). Possess Firearm Convicted Felon."