The 863 Art Fest Returns After A Year's Hiatus
by James Coulter
After being postponed last year due to the ensuing COVID-19 crisis, The 863 Art Fest is making a grand return to Winter Haven on Sat., Apr. 17.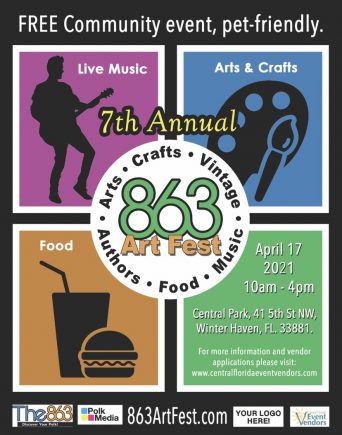 More than several dozen vendors will line the sidewalk at Central Park in Downtown Winter Haven to showcase a diverse selection of arts and crafts from local artists, many of whom are otherwise unable to share their art at other art shows and events.
Attendees can peruse the artwork of the many participating artists while also enjoying live entertainment and eating tasty selections from food trucks.
Best of all, the event is pet-friendly, so even their furry four-legged friends will be able to attend, provided they are on a leash. Also, since no alcoholic beverages will be served, the event will also maintain a family-friendly atmosphere.
One week prior, a one-time only Saturday Market will be hosted at the Chain of Lakes Complex on Apr. 10 from 9 a.m. – 3 p.m.More than 50 vendors will showcase arts, crafts, homemade goods, plants, raw local honey, food trucks, and fresh produce and vegetables. The market will be hosted in the parking lot outside the complex and across the street from Applebees.
The annual art show was started eight years ago by Sergio Cruz and his wife Andrea, publisher and editor respectively of The 863 Magazine. Both of them wanted to provide a venue for up-and-coming local artists who otherwise would be unable to attend an art event.
"We love doing this every year," Sergio said. "[We offer] a lot of local arts and crafts…and very unique vendors that don't get a chance to participate at other venues because they are new to the business. It is difficult for them to debut because they do not have enough data behind them to be supported by other venues that have been going on forever, and they have a waiting list to get in."
For many artists, The 863 Art Fest offered them a venue to explore other people's art and even experiment with their own. Many people attended who were not initially interested in art gained a personal interest and even started creating their artwork.
"We have two to three artists who attended five or six years ago, and they took the courage after what they saw and became part-time artists," Sergio said. "This could be the start of a hobby or career of someone who could be shy and has never had an experience like this. But when they come and enjoy a live event, it is very beautiful, it makes people change their lives in a good way."
This year will see even more vendors than previous years, with at least five new artists making their debut this year, Sergio said. Each year sees the art show grow bigger in attendance and turnout, he said.
Sadly, due to the COVID-19 crisis, the show was forced to cancel last year's in-person event. A virtual event was hosted, but many participating artists were not as enthused about it, Sergio explained.
"Not all the vendors could participate because some of them were very skeptical or had products that are not appealing or attractive virtually," he said.
Hopefully, this year's event will make an epic comeback, with them bigger and stronger than ever, and with health and safety precautions in place, Sergio assured. The event will comply with the CDC requirements as enforced by the city. Every booth will be set 10 to 12 feet apart, each one will have hand sanitizer available, and every vendor will be wearing a mask.
"This year, we have a lot of new vendors who have not participated before, and that is why we are very, very excited," Sergio said. "Moving forward, we want to grow. We want to become bigger and better…The expectations are nothing short but optimistic and positive. We are just growing."
The 863 Art Fest will be hosted on Sat., Apr. 17, from 10 a.m. to 4 p.m. For more information, visit their website at: http://www.centralfloridaeventvendors.com/863-local-art-fest/