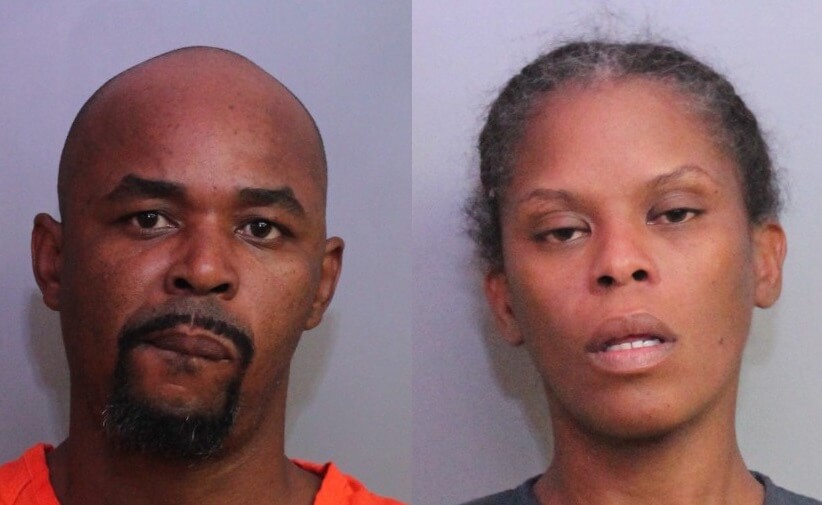 Winter Haven Couple Arrested for Armed Robbery of Family Dollar Store Winter Haven
On December 3, 2018, PCSO Robbery detectives arrested 37-year-old Christopher "Champ" Bouiye, and his girlfriend, 39-year-old Michelle Videau, who both lived at 5651 Cypress Gardens Rd #105 in Winter Haven, and charged both with armed robbery (FL), armed burglary with assault (FL), and conspiracy to commit armed robbery (F2), in the armed robbery of the Family Dollar store that occurred on Sunday, November 25, 2018.
Bouiye was additionally charged with possession of a firearm by a convicted felon (F2) and destruction of evidence (F3).
According to their affidavits:
On November 25, 2018, just after the store opened at 8:00 a.m., an unknown black male suspect entered the store and pointed a handgun at the clerk. The suspect went behind the counter and demanded money from the safe and registers. After taking an undisclosed amount of cash, the suspect left the store and walked westbound towards Lake Dexter Boulevard.
The victim described the suspect as a black male, 5'10-6'0″ tall, medium build, 30-37 years old, wearing a black hooded sweatshirt, pants, black gloves, and dark blue bandanna covering his face.
PCSO Robbery detectives obtained video from surrounding businesses which showed that a gray, 2004-2007 Kia Spectra dropped the suspect off on Lake Dexter Boulevard. The video showed that the suspect was wearing a dark shirt or jacket, long pants, and he appeared to have dark skin. The Kia is seen circling the area while the suspect is in the store. The Kia also went into the Lake Dexter neighborhood off-camera. A few minutes later, the suspect is seen walking towards the Lake Dexter neighborhood. Video from the neighborhood showed that the Kia fled towards Register Road.
On Monday, December 3, 2018, detectives in the Cypress Gardens Road area of Winter Haven observed a gray 2006 Kia Spectra traveling westbound on Cypress Gardens Road. Detectives followed the vehicle and observed that the driver failed to obey a stop sign at Overlook Drive and Dundee Road. Detectives conducted a traffic stop on the vehicle and made contact with the driver, Michelle Videau, and passenger, Christopher Bouiye.
Christopher provided a Dundee Citrus work ID card as identification and a date of birth of 5/31/1981 (37 years old). A DAVID inquiry showed that Christopher is 6'0″ tall. Christopher matches the description given by the victim of the suspect who pointed a gun at her and demanded money. Michelle and Christopher told detectives that they have been staying at Cypress Inn (5651 Cypress Gardens Rd), and that they were in the process of moving to another motel.
Michelle advised the gray Kia Spectra was a rental car that she rented from Legend Auto Sales in Winter Haven. Michelle advised she has had the car since November 6, 2018.
When detectives told Michelle that video surveillance in the area showed that the suspect who robbed the victim at Family Dollar was in a car matching the description of her rental car, she initially advised she did not go to the Family Dollar, but then admitted that she did drive her boyfriend, Christopher Bouiye, to the Family Dollar the Sunday morning after Thanksgiving. Michelle advised they had talked about doing a robbery there a few weeks prior because they needed money, but they did not do it. On Sunday, November 25, 2018, Christopher told her "I'm ready."
Michelle drove him in the gray Kia Spectra to the Family Dollar and dropped him off on Lake Dexter Boulevard. She stated Christopher was wearing a black hoodie, jeans, black Jordan shoes, dark blue or black bandanna, and a black hat when he got out of the car. He did not have his face covered when he got out the car, but he had the bandanna tied around his neck. Michelle stated she drove across the road by a gas station and back to the Lake Dexter neighborhood, which is corroborated by video surveillance. Christopher then got back in the car and was nervous. Christopher then directed her to drive southbound on Register Road, which is corroborated by video. Michelle advised that she did not know that Christopher had a gun. After the robbery, Christopher and Michelle went to their motel room at Cypress Inn. Michelle saw Christopher put the clothes he wore during the robbery in a bag and throw them away. The black Jordan shoes he was wearing are the same shoes he was wearing at the time of the traffic stop.
Detectives obtained a search warrant for the suspects' hotel room, during which they recovered a black hooded sweatshirt, and dark blue bandanna.
Bouiye has been in the Polk County Jail on 15 prior occasions, and was just released in September 2018. In 2000 he was sentenced to one year in state prison for the sale of cocaine.
Videau has been in the Polk County Jail on 7 prior occasions, and was just released in February 2018.
"This guy's nickname is 'Champ' but we think he's more like a 'chump.' Anyone who sticks a gun in someone's face and robs them – not to mention a convicted felon who isn't even legally supposed to possess a firearm – deserves to be locked up for a long, long time." – Grady Judd, Sheriff