Cooking On the Ridge: Cottage Pie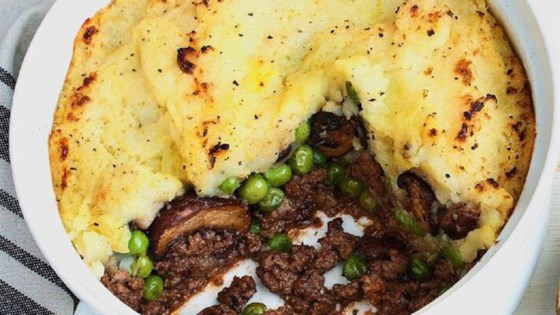 Prep 30 m

Cook 20 m

Ready In 50 m
Preheat oven to 350 degrees F (175 degrees C). Lightly grease a 9 inch deep-dish pie plate.

Place potatoes into a pot; cover with salted water, and bring to a boil over high heat. Reduce heat to medium-low, cover; simmer until tender, about 20 minutes. Drain; mash with 2 tablespoons of the butter and the garlic. Season to taste with salt and pepper; set aside.

Meanwhile, heat the olive oil in a skillet over medium heat. Add ground beef, herbes de Provence, and nutmeg; cook and stir until beef is lightly brown and crumbly, about 10 minutes. Spread the beef evenly in the prepared pie plate. Cover evenly with the peas; spread the mashed potatoes over the peas. Dot the casserole with the remaining butter.

Bake, uncovered, in the preheated oven until heated through and bubbly, about 20 minutes.