Pinewood Estate Holiday Home Tour Brings Guests "Home For The Holidays"
by James Coulter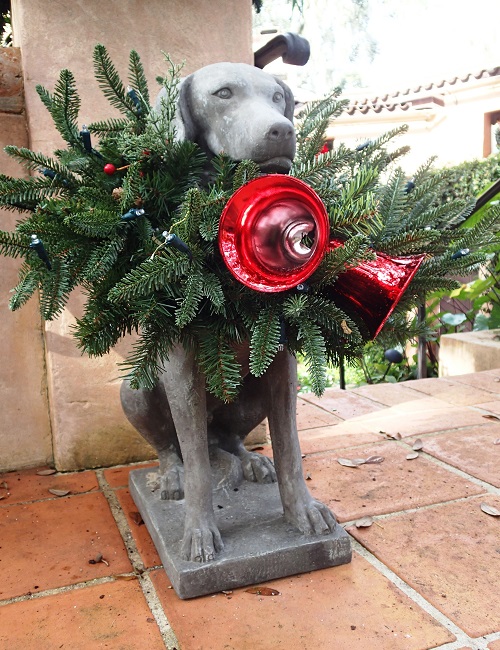 "Twas the night before Christmas, and all through the house, not a creature was stirring, not even a mouse.
But over at Pinewood Estate, there was really quite a quarrel. For instead of a rodent, they were invaded by a squirrel!"
Guests to Pinewood Estates at Bok Tower Gardens can keep an eye out for a pair of silly squirrels as they tour the estate's 22 rooms decorated for the holidays.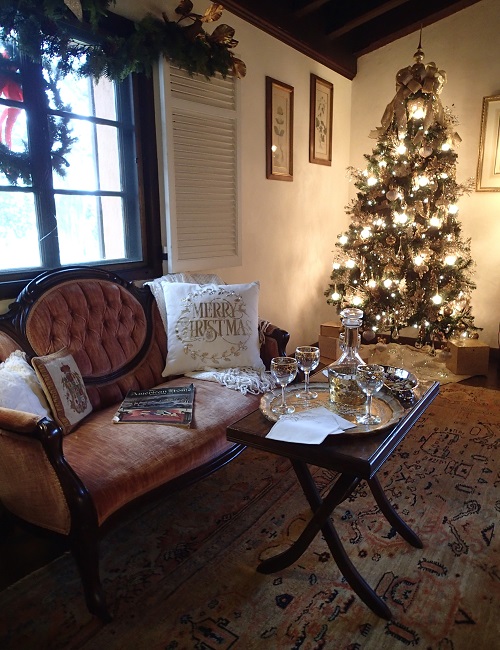 Hidden within each room are Tucker and Tilly, the resident estate squirrels, which young guests can search for using their special holiday guide map provided to them upon admission.
When not on their squirrel hunt, guests can also appreciate the elaborate Christmas decorations set up within the estate's many rooms, all decorated to this year's theme of "Home For The Holidays."
Each room was decorated to reflect scenes based upon the memories of the home's former owners, the Bok family, using scrapbook pages and photographs as references.
"We went through and read every letter and looked at every picture," said Erica Smith, Bok Tower Marketing Director. "Throughout the entire home, you will find little pieces of history in each of the rooms that illustrate actual stories that happened with the family when they were here."
For the past 24 years, the Holiday Home Tour has allowed visitors the chance to visit the Medeterenian estate (once home to Edward Bok, founder of Bok Tower Gardens) within its holiday splendor, with rooms decorated with garlands, ribbons, and of course, plenty of Christmas trees.
Eight months are spent planning the overall event and its annual theme. The end result are several classic Christmas scenes presented within a classic household setting.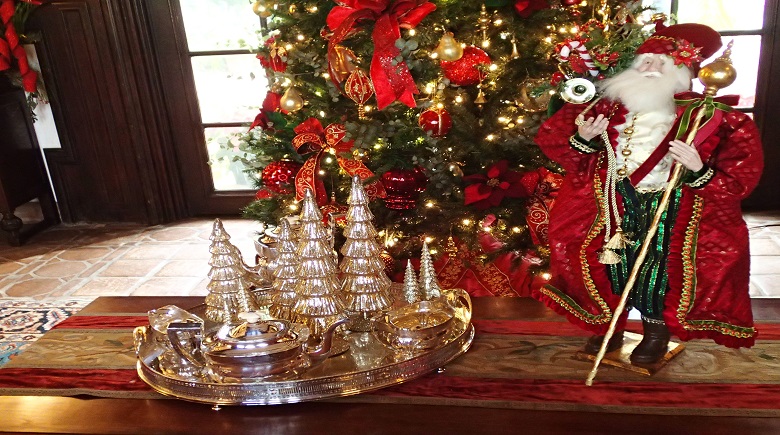 "What we wanted to bring about is the luxuriousness of the house as well as the elaborate, beautiful holiday," Smith said. "So you will really see in every room these wonderful details with ribbons, garlands, and it is just an extravaganza of color and holiday finery."
In previous years, several teams from local businesses and organizations would come together to help decorate the home for the holidays. Now the event is coordinated by a design team.
With one team working on the decorations, the entire event can be better encapsulated with a singular vision, thus allowing a more coherent theme throughout the house and its many rooms, explained Trisha Cutchen, Pinewood Estate Manager.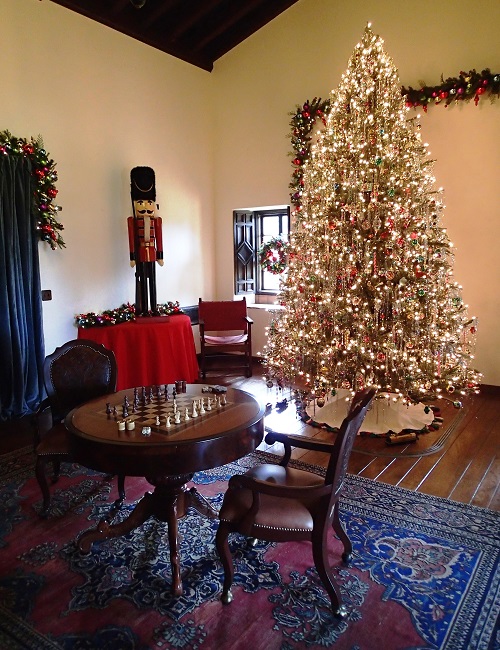 "We meet with our decorators almost year round trying to decide how to put the house together and make it," she said. "This year, it flows as one piece. We spend many hours ahead of time trying to figure out a storyline and make the house flow as one piece."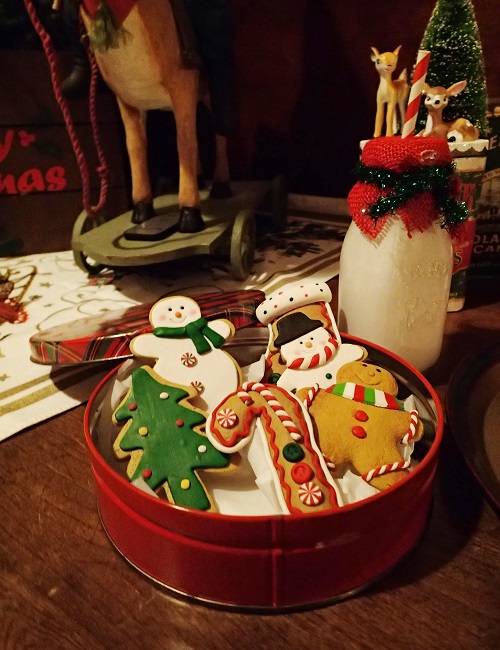 The only thing more gratifying than seeing the entire house decorated and lit up for the holiday season is seeing the many visitors react to the decorations and even draw inspiration from them, she further elucidated.
"But I like it that they can take an idea home to decorate their own house," she said. "It is my favorite time of the year."
Last year, more than 25,000 guests visited the house during the annual holiday tour; and this year, nearly 30,000 are expected to attend the tour, Smith said.
Danny Rogerson, Assistant Coordinator, has been helping guests learn more about the house and its many rooms as a tour guide for the past year.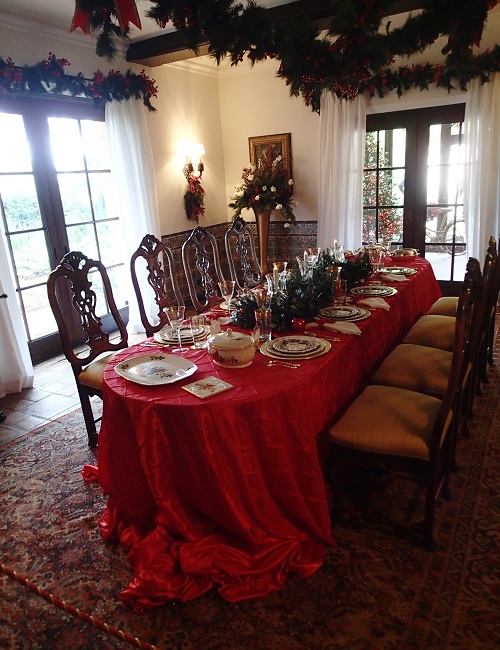 As a coordinator, he helps the volunteers cooperate with one another, and he helps with last minute details with the overall decorating, making sure that things are running smoothly and moving forward.
"It's not just one person," he said. "It takes a long time. They have been spending eight months until today creating the storyline, researching the photos from Bok family, and making this real."
Being able to see everything come together at the very end proves rewarding, especially with all of the hard work that goes into the decorating.
"I love the people," he said. "[I love] working with the volunteers to bring the house alive, and working with the guests that come either way, whether it is their first time or it is a traditional thing they love to do every Christmas, just being here."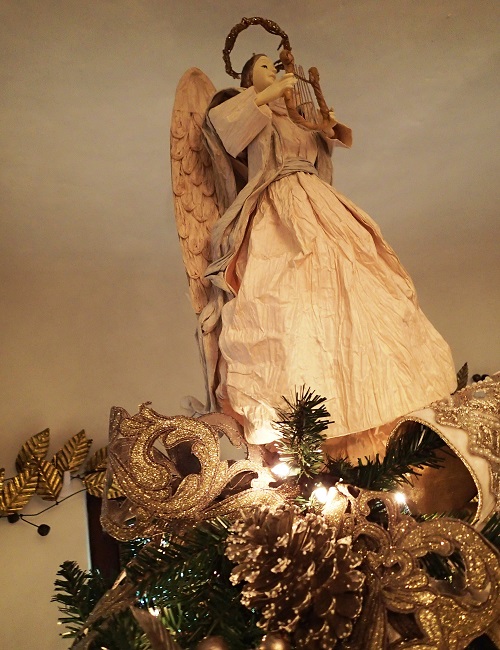 The Holiday Home Tour at Pinewood Estate is being hosted from Nov. 23, 2018 through Jan. 6, 2019 at Bok Tower Gardens, located at 1151 Tower Blvd., Lake Wales, FL 33853.
Admission is $25 for adults, $12 for children 12 and under, and free for children under 5. For more information, visit their website at: http://boktowergardens.org/